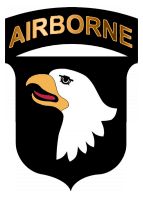 Fort Campbell, KY – Was a beautiful sunny afternoon for the arrival of 195 Soldiers with the 1st Brigade Combat Team. Friends and family gathered just outside hanger 3 to get a glimpse of their soldiers as the made way off the plane.
Renee Christian made her way to Fort Campbell to greet PFC Joseph Frank who was her son's best friend. PFC Zachary Salman was killed in action back on January 12th, 2011 in Afghanistan. Renee wore a shirt with a photo of her son today at the Welcome Home Ceremony. PFC Salman was assigned to 1st PLT – A Troop – 1-32 CAV at Fort Campbell along with PFC Frank.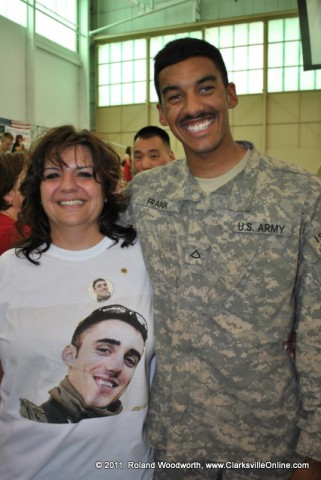 Tammy Jarrells and her daughter Lilly Wait were very excited to see her fiancee PFC Corey Peters along with his mother Kathy Peters. Also cousins Jamie Henton and Lisa Jersild were there as well. They all drove in from Key West, FL.
Ashley Reynolds and her family were also on hand to welcome home Jeff Hutchinson.
Once inside the hanger Col. Pete Bosse welcomed everyone home in a short speech to the soldiers. Afterwards everyone was allowed 15 minutes of family time before heading back to their unit to turn in their gear.
If you wish to attend a Welcome Home Ceremony, check the flight schedules online, as times are subject to change at any time. When arriving to Fort Campbell, enter via Gate 7; if you don't have installation stickers on your vehicle, you will be required to get a visitor pass. From there just follow the signs to the ceremony parking. Waiting buses transport the Family members safely to the hanger.