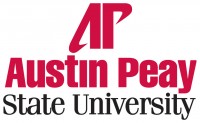 Clarksville, TN – Although Casey McKnight was always a mathematics enthusiast, pursuing a career in mathematics was something she would not have dreamed of doing.
The senior at Austin Peay State University, who will graduate May 6th with a bachelor's degree in math (concentration in statistics) and physics, was encouraged – even convinced – by a professor to consider a major in math after taking Statistics 3250 her freshman year.
"I took it and really hated it at first," McKnight said, laughing about the hours she spent on stats assignments. "But I had really amazing professors who pushed me along the way. They all helped drive me."

The hard work paid off. For the next five years, McKnight will work toward a Ph.D. in statistics at Stanford University in California, the top statistics program in the U.S. And she will pursue her studies on a full tuition-paid scholarship, as well as teaching and graduate assistantships.

She also received offers from the Ohio State University chemical physics, University of South Carolina statistics and the Colorado School of Mines math programs – all powerhouses in the math and science fields. Last summer, McKnight walked into the Stanford stats department and knocked on doors. The opportunity to meet faculty members who have established benchmark statistics procedures made a Ph.D. degree at Stanford the dream goal for McKnight.

"When I was notified of my acceptance and invited to visit again this April, it was exciting to realize that the faculty truly remembered me from the previous summer," McKnight said.

At Stanford, McKnight will spend the first two years taking courses to prepare her for the qualifying exam, which she only has one chance to pass. For the next year after the exam, she will complete a research project with a few professors to help her determine who her dissertation adviser might be.

McKnight hasn't decided if she will seek a career in academics or industry.

On April 26th, McKnight was named the recipient of APSU's top student award, the William McClure Drane Award, chosen by faculty vote based on character, scholarship, leadership and service to APSU. She credits her professors in the departments of physics and mathematics and statistics with her scholarship award to Stanford.
"I turned down a scholarship to the University of Tennessee at Knoxville to come to APSU because I knew the classes were smaller and my professors would know my name," she said. "They have each personally helped me to grow over the past four years. My experience at APSU has been really, really good."