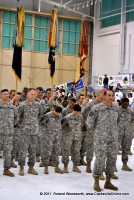 Fort Campbell, KY – It was an early morning arrival as 163 Soldiers with the 1st Brigade Combat Team returned Monday morning.  With short notice, the flight which carried the 1st Brigade, Regimental and 426 colors arrived about 45 minutes early to Campbell Army Airfield.
On board the flight were the Brigade Commander, Col. Poppas, and CSM Benson along with Col. Furguson and CSM Torres who led the formation inside for their Welcome Home Ceremony.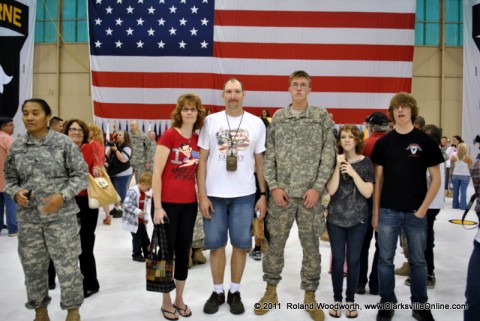 PFC Thomas Riddle was welcomed home by his mother and father, Kelly and Steve Riddle, along with his brother John Riddle and his girl frien Emily Crossland. Thomas had graduated from Basic and Advanced Individual Training – A.I.T. just one month prior to being deployed to Afghanistan last year. His family has a long tradition of members in the U.S. Army.
As soldiers made their way from the plane towards the hanger, there were cheers from the friends and family members on hand as they held signs high in the air.
When the doors opened and the soldiers from the 1st Brigade Combat Team marched inside, their mascot Bastogne was there with them. He was very attenative as well. When the group was called to attention, Bastogne did so as well.
Brigadier General Jeffrey N. Colt welcomed everyone home in a short speech to the soldiers.  Afterwards everyone was allowed 15 minutes of family time before heading back to their unit to turn in their gear.
Major David had his own welcoming committee who raced to greet him once the soldiers were released. All six of his children were wearing shirts that had them numbered.  His mother Janice Bovee along with his wife Eryn David were just excited as their six children.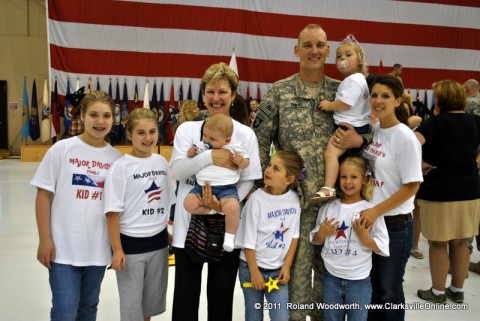 If you wish to attend a Welcome Home Ceremony, check the flight schedules online, as times are subject to change at anytime. When arriving to Fort Campbell, enter via Gate 7; if you don't have installation stickers on your vehicle, you will be required to get a visitor pass. From there just follow the signs to the ceremony parking. Waiting buses transport family members safely to the hanger.
Photos