APSU Women's Softball

Clarksville, TN – Austin Peay's softball team lost its final Ohio Valley Conference game of the 2011 season Sunday afternoon at Cheryl Holt Field 4-3 against Southern Illinois Edwardsville.
For Austin Peay (12-40, 7-23 OVC) the loss marked the 10th one-or-two run loss for the Lady Govs this season – including five coming in conference play.
Trailing 3-0 heading into the bottom of the fifth inning, the Lady Govs answered back with a three-run inning to tie the game, with redshirt sophomore Jessica Ryan opening things up with her team-best eighth home run or the season – and third of the series – with freshman Kayla Davidson and senior Randal Davenport singling in-between outs to put runners at first and second.
That brought up freshman lead-off hitter Lauren de Castro, who would then triple to right-center field bring in Davidson and Davenport to make it 3-3.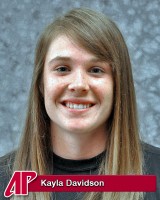 Davidson was the lone Lady Gov with two hits on the day – including a double.
But the Cougars responded with a one-out single to center field by Kasey Schlafke, and after a sacrifice moved her into scoring position at second base, scored on a single down the left field line by Samantha Stanicek to retake the lead 4-3.
Austin Peay would get runners on in the sixth and seventh innings, but couldn't come up with another big hit to tie the game.
SIU Edwardsville (28-28, 19-11 OVC) starter Erika Taylor got the complete-game win, striking out 12, and becoming the Cougars all-time strikeout leader in the second inning with her fourth strike out of the day.
The Cougars took their first lead of the day in the fourth inning, breaking a 0-0 tie with two runs, the first on a double by Schlafke — driving in Kayla Riggs – and the second coming in on a throwing error by APSU's redshirt sophomore first baseman Shelby Norton.
Schlafke had two hits and scored two runs to lead SIU Edwardsville.
The Cougars added a single run in the fifth to go up 3-0 on a double by Rachel Coonrod, scoring Linsdey Barron.
Sunday's game was also the final game in the careers of Austin Peay's two 2011 seniors Tiffany Smith and Davenport.
Lady Gov Seniors