Ohio Valley Conference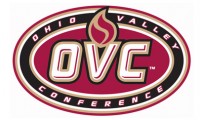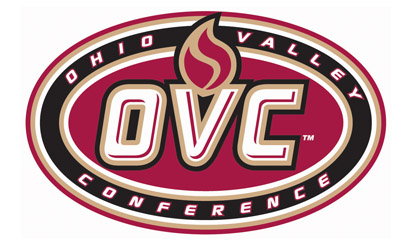 Brentwood, TN – The Ohio Valley Conference announced on Friday that Belmont University has been admitted to the Conference and will become the league's 12th member. The move was approved by the OVC Board of Presidents.
Belmont will officially become a member of the OVC on July 1st, 2012 and its athletic teams will begin competing in the Conference in the 2012-13 season.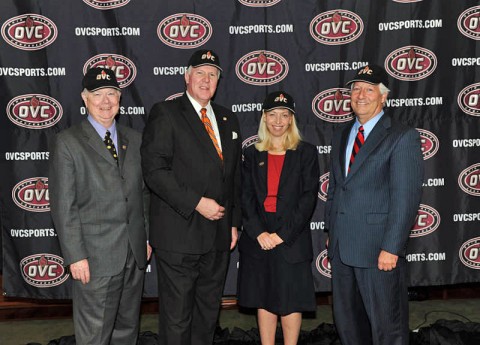 "Given Belmont University's commitment to excellence, both in the classroom and on the playing fields, they are a wonderful fit for the Ohio Valley Conference," said Beth DeBauche, OVC Commissioner. "I am delighted to welcome them to the Conference. They are a wonderful addition and the right fit for the OVC."
"The addition of Belmont University adds great value to our already stable and healthy Conference," said Dr. Thomas Rakes, University of Tennessee at Martin Chancellor and current Chair of the OVC Board of Presidents.
With a total enrollment of 5,936 (and an expected enrollment of over 6,000 in the fall of 2011), Belmont is located in Nashville, TN. Belmont's campus is just nine miles north of the OVC's Brentwood headquarters and the University will be the second OVC school located in Nashville, joining Tennessee State.
"The Ohio Valley Conference is one of the most tradition-rich and respected athletic conferences in NCAA Division I," said Dr. Robert C. Fisher, Belmont University President. "We were honored by the invitation to join such a great family of fine universities and look forward to establishing new traditions and new friendships."
"This is an exciting day for Belmont University and our athletic program as a whole," Belmont University Director of Athletics Mike Strickland said. "Membership in the OVC offers our student-athletes and alumni numerous opportunities and advantages, and we look forward to forging these new relationships."
Belmont competes in 17 sports (8 men's sports and 9 women's sports), 16 of which will compete in the OVC (the exception being men's soccer which is not sponsored by the OVC). The Bruins have competed in the Atlantic Sun Conference since 2001-02 and will compete in its final year in that league in 2011-12 before joining the OVC. Since 2001-02 Belmont has won 30 Atlantic Sun Championships, the second most in the conference. Bruins athletic teams have made recent NCAA Tournament appearances in men's and women's basketball, women's soccer, men's tennis and volleyball. The men's basketball program has made four NCAA Tournament appearances in the past six seasons, including finishing 30-5 (one of nine Division I teams with at least 30 wins) and earning a No. 13 seed in the NCAA Tournament in 2010-11. The Bruins men's and women's cross country squads have combined for 13 conference championships and 25 All-South Region runners since 2001.
Academically, Belmont has won the Atlantic Sun Conference All-Academic Trophy in seven of the nine years it has been a member of the league; the trophy is given to the institution with the greatest percentage of student-athletes with a G.P.A. of 3.0 or higher. In addition, 46 student-athletes have earned Capital One/CoSIDA Academic All-District honors and seven athletic teams have reported single-season G.P.A.'s that ranked in the Top 10 nationally including four (men's and women's cross country, softball and volleyball) who had team G.P.A.'s that led the nation. Belmont has had seven athletic teams earn Academic Progress Rate (APR) Public Recognition awards from the NCAA for posting APR scores that ranked in the Top 10 percent nationally.
Belmont, which hosted the 2008 Town Hall Presidential Debate, offers more than 100 undergraduate and graduate academic programs through its eight colleges and schools – Arts & Sciences, Business Administration, Entertainment and Music Business, Health Sciences & Nursing, Religion, University College, Visual and Performing Arts, and Law. Ranked in the Top 5 in the Regional Universities South category and named for the third year as one of the top "Schools to Watch" by U.S. News & World Report, Belmont University is committed to being a leader among teaching universities. Belmont brings together the best of liberal arts and professional education in a Christian community of learning and service. Belmont was also ranked among the Top 100 "Best Values in Private Colleges" by Kiplinger's.
The Ohio Valley Conference is expanding for only the third time in the last 15 years and for the first time since 2008 when it added Southern Illinois University Edwardsville.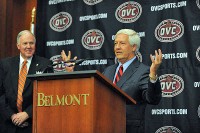 The OVC was established in 1948 and is the eighth-oldest Division I conference. With the addition of Belmont the OVC will include 12 schools from five states. The current members of the OVC are: Austin Peay State University (Clarksville, Tenn.), Eastern Illinois University (Charleston, IL), Eastern Kentucky University (Richmond, KY), Jacksonville State University (Jacksonville, AL), Morehead State University (Morehead, KY), Murray State University (Murray, KY), Southeast Missouri State University (Cape Girardeau, MO), Southern Illinois University Edwardsville (Edwardsville, IL), Tennessee State University (Nashville, TN), Tennessee Technological University (Cookeville, TN) and University of Tennessee at Martin (Martin, TN).
The OVC currently sponsors championships in 18 sports: baseball, men's and women's basketball, men's and women's cross country, football, men's and women's golf, rifle, women's soccer, softball, men's and women's tennis, men's and women's indoor track & field, men's and women's outdoor track & field and volleyball.