Clarksville, TN – Yesterday Maurice Vaughn from Better Homes and Garden Real Estate Hometown Connection presented a check for $1600 to Kenny York from Mana Café Ministries. The check is the proceeds from the first Magic at the Museum benefit show.
York organized Mana Cafe Ministries together with his wife Vicki in May 2010. Together they have a combined 16 years experience serving the poor.
Magic at the Museum the newest fund raising franchise created by Bonehead Promotions to not only raises money and awareness, but provides new and exciting entertainment for the community. Hank Bonecutter, of Bonehead Promotions, said, "The Customs House Museum kind enough to allow us to use their facility to host Magic at the Museum, their state of the art auditorium was the perfect place to hold the magic show".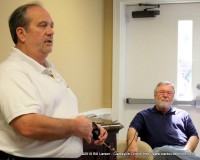 "We operate on a shoestring budget with the help of a lot of hard working volunteers, so we are way ahead of schedule on the food we are distributing; but we haven't caught up yet financially. So we can use help from the community," said York. Financial donations are always helpful, but you can also do something as simple as dropping off bags of canned or boxed foods at the warehouse at 1319 East Franklin Street, or by organizing food drives at your place of work.
In addition to the Mobile Food Pantry, Manna Café Ministries has several other programs…
One of those is the Mobile Café which feeds around 1,100 people per month. People who are hungry can get help at 5:30pm on Tuesdays at the Byrns L. Darden Elementary School in New Providence; and on Thursdays at 5:30pm, and Saturdays from 8:30am till 10:00am over by the United Way on Madison Street.
Manna Café Ministries also distributes food boxes from their warehouse three days a week. They feed an average of 200 families a month with this program.
For more information about Manna Café Ministries including how to make a donation, visit their web site; or follow them on Facebook,
Magic at the museum returns to the Customs House Museum, on Saturday June 25th 2011 with a show Featuring Magician Big Daddy Cool Johnny Dellarocca and the Swing Kittens. Bring the entire family and enjoy Magic at the Museum, and support Project F.U.E.L., fighting hunger in our community. Following the success of our first event, you won't want to miss the next show.
Video
Photo Gallery
About Manna Café Ministries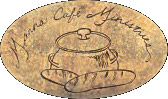 From 2004-2008, Kenny was on staff at an inner city ministry in Nashville. Among his responsibilities were preparing food and overseeing Meal of Hope, an outreach for those living in the Jo Johnson projects of the city. Each week, the Meal of Hope team fed between 50 and 200 people. Kenny also oversaw the food pantry, which distributed more than 200 bags of food each week, and supervised the food preparation for hundreds of missionaries as they came through the Nashville area.
During the winter of '09-'10, Kenny and Vicki began to feel God pulling them toward Clarksville, TN. After seeking counsel from area pastors and other community leaders, they packed their belongings and moved to Clarksville in late April of 2010. Three days later, the devastating flood of '10 hit the area, and they hit the ground running in the area of disaster relief.
Within weeks–and with the help of a hard-working, dedicated core team of volunteers–MCM was carrying out a community meal for the homeless and poor on Thursday nights (on Pageant Lane). Within a month or two, and in conjunction with a local church community, MCM was involved in a Saturday morning breakfast as well. Finally, in the month of August, a church from Dover, TN stepped up to the plate so that Tuesday Café (on Providence Blvd.) became possible. Therefore, MCM is presently offering three community meals per weeks: Tuesday Café, Thursday Café, and Saturday Breakfast Café. Via these three events, hundreds of individuals receive a hot meal as well as a "goody bag," i.e. a bag of non-perishable food items to use throughout the week.
What makes Manna Café Ministries unique is its mobility. Meals are served and food is distributed from various locations throughout the community. Manna Café Ministries is committed to going to where the need exists.