"Tennessee Human Sex Trafficking and Its Impact on Children and Youth 2011"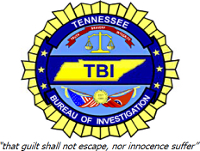 Nashville, TN – The Tennessee Bureau of Investigation today released the first ever statewide study on the presence of human sex trafficking and its impact on children who are victimized by the criminals who run trafficking operations in Tennessee.
The study is a response to a 2010 Public Chapter enacted by the General Assembly that directed the Select Committee on Children and Youth to study the problem and develop recommendations to strengthen the state's stance against human sex trafficking.
Human sex trafficking is the slavery of women and children forced to perform various sex acts for money at a variety of locations across the state for the purpose of making money for their captors. The National Incidence Studies of Missing, Abducted, Runaway and Throwaway Children reports that one in four children who runaway from home are approached for commercial sexual exploitation within 48 hours of running away. The average age of entry into the business of sex trafficking is 13.  
The TBI, with a significant contribution from the Vanderbilt Center for Community Studies, first conducted a large scale survey from law enforcement, social services agencies, state and federal prosecutors and court representatives to gather data on the level of human sex trafficking being seen in the state. Focus groups, which included participants from the same groups that were surveyed, were held across the state to generate suggestions on how to better identify victims, gaps in laws and the judicial system, and treatment options for victims. The third part of the study includes interviews with two human sex trafficking victims which serve as case studies on where victims come from and how they became victims.   
Eighty-five percent of the counties stated that they have investigated at least one human sex trafficking case over the last 24 months. Seventy-two percent of the total counties in the state reported at least one case of minor human sex trafficking. There were 16 entities that reported an excess of 50 cases and eight reported over 100 cases of minor cases of human sex trafficking. The majority of respondents, 79%, say they are not adequately trained to handle human sex trafficking cases. The focus groups suggested various solutions to combat the problem including strengthening laws and imposing heavier sentences for offenders who subject their minor victims to violence and sex slavery as well as allowing victims to sue captors under civil laws for damages. The focus groups also pointed out a need for training at all levels including law enforcement, prosecutors, courts and social service agencies as well as a need for better resources and treatment for victims who are trafficked.  
For a full copy of the report, go to
www.tbi.tn.gov
and click on "Tennessee Human Sex Trafficking and Its Impact on Children and Youth 2011" link from the homepage.