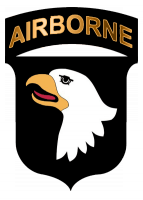 Fort Campbell, KY – On a nice sunny Tuesday afternoon, 134 members of the 101st Headquarters and Headquarters Battalion returned to Campbell Army Airfield on the second of three flights for the day. The plane touched down just before 12:30pm.
Lieutenant Colonel Patrick Seiber, Public Affairs Officer with the 101st Airborne Division ( Air Assault ) was one of the soldiers on this flight. Now the task at hand is to get things ready for the return of Major General John F. Campbell on Friday.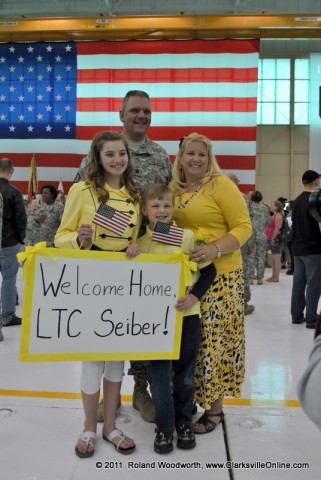 When the announcement that the plane was 15 minutes out, friends and family gathered outside hanger 3 to watch the planes arrival.
As the soldiers made their way off the plane, one soldier laid his weapon and ruck sack to the ground, then preceed to kiss the ground just a few feet away from the plane.
Once all soldiers were in formation with their yellow roses, the hanger doors opened wide as soldiers marched inside where they were welcomed home by Brigadier General Jeffrey N. Colt and then release for 15 minutes of family time.
LTC Jason Jones had his own welcoming crew as his wife Cindy, their children, mother and father Pat and David, brothers Mitcel and Michael, sister Meghan, Uncle Joe and several others family members were on hand to welcome him home.
There is a third plane scheduled to arrive later in the day, which would bring home the Deputy Commander Brigadier General Steve Townsend.
If you wish to attend a Welcome Home Ceremony, check the flight schedules online, as times are subject to change at anytime. When arriving to Fort Campbell, enter via Gate 7; if you don't have installation stickers on your vehicle, you will be required to get a visitor pass. From there just follow the signs to the ceremony parking. Waiting buses transport family members safely to the hanger.
Photos