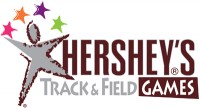 Clarksville, TN – The annual local Hershey Track and Field Competition was held May 14th at Kenwood High School.  The competition gives young athletes a chance to showcase their skills in track and field, long jump and softball throw.
The first- and second-place athletes in the local competition advanced to the District Hershey Track and Field Competition in Dickson where they are given the opportunity to advance to the State Competition in Murfreesboro.
Congratulations to the following young athletes on their accomplishments at the local tournament and best of luck to those who will be competing in Dickson.
Long Jump:
9/10 yrs. old (Girls)
Ashley Roberts  — 4ft. 8 in. — 1st
Victoria Dennis — 4ft. 1in. — 2nd      
11/12 yrs. old (Girls)
Janira Quinones — 5ft. 8in. — 1st
Jasmine Quinones  — 5ft. 4in.  — 2nd
Alaysia Johnson  —  5ft. 3in.  — 3rd
13/14 yrs.old (Girls)
Bethany Rich  —  6ft. 10in.  — 1st
Softball Throw:
9/10 yrs. old (Boys)
David DeRegis  —  73ft. 9in.  — 1st
9/10 yrs. old (Girls)
Erykah Bullard  —  69ft.  — 1st
11/12 yrs. old (Girls)
Bradyn Webb —  70ft. 3in.  — 1st
Janira Quinones  —  65ft. 7in.  — 2nd
13/14 yrs. old (Girls)
Daylon Brooks  —  101ft. 2in.  — 1st
50 Meter:
9/10 yrs. old (Girls)
Ashley Roberts  —  8.29  — 1st
Victoria Dennis  —  9.63  — 2nd
100 Meter:
9/10 yrs. old (Girls)
Erykah Bullard  —  .15  — 1st
Victoria Dennis  —  .19  — 2nd
Ashley Roberts  —  .21  — 3rd
9/10 yrs. old (Boys)
David DeRegis  —  .15  — 1st
11/12 yrs. old (Girls)
Sydney Pena  —  15.78  — 1st
Jasmine Quinones  —  16.57  — 2nd
Janira Quinones  —  17.35  — 3rd
13/14 yrs. old (Girls)
Bethany Rich  —  .14.35  — 1st
Daylon Brooks —  .17.00  — 2nd
200 Meter:
9/10 yrs. old (Girls)
Erykah Bullard  —  34.0  — 1st
9/10 yrs. old (Boys)
David DeRegis  —  33.81  — 1st
13/14 yrs. old (Girls)
Bethany Rich  —  31.84  — 1st
Daylon Brooks  —  43.06  — 2nd
400 Meter:
11/12 yrs. old (Girls)
Melanie Stevens  —  1:14.22  — 1st
Sydney Pena  —  1:19.78  — 2nd
Bradyn Webb  —  1:21.59  — 3rd
800 Meter:
11/12 yrs. old (Girls)
Melanie Stevens  —  3:04  — 1st
Bradyn Webb  —  3:31  — 2nd
Jasmine Quinones  —  4:13  —  3rd
11/12 yrs. old (Boys)
Benjamin Zirkle  —  2:58  —  1st
13/14 yrs. old (Boys)
James Stevens  —  3:07.78  —  1st