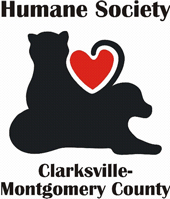 Clarksville, TN – The Clarksville City Council is in the middle of budget planning for next fiscal year. The Humane Society of Clarksville-Montgomery County has been receiving non-profit funding from the City since 1999, receiving $20,000 last fiscal year and $19,000 each year prior. 
This year the Council planned to limit the funds available for non-profits, so we expected our funding might be reduced.
However, the article in the Leaf Chronicle this week indicated that we are being recommended for ZERO funding, which will dramatically impact our ability to continue the programs and services this community has come to expect from us.
With Emma's influence, we are BEGGING each of you to take just a few minutes to email or call each and every City Councilperson strongly recommending that the HSCMC receive funding (and please encourage those in your network to do the same).
The City Council is meeting on May 31st, so it is CRUCIAL that this week they FEEL without question the outpouring of support from constituents in our community that BELIEVE in the services we provide. At this point, the lack of recommendation to fund the HSCMC is just that… a recommendation.  The City Council and Mayor could very well vote for something different, which we hope includes funding for the HSCMC!
Please contact all of the council members to voice your disappointment that our Humane Society has been recommended for zero funding. Remind them that the HSCMC is important to quality of life in Clarksville—not just for the animals, but for our citizens too! Have we helped you with spay-neuter? Emergency financial assistance? Re-homing a rescued pet? Finding a new family member? If so, share your experience with them! Tell them why we are important to you… valuable to this community… and deserving of funding.
For your convenience, feel free to copy and paste the following addresses into your email:
If you prefer to make phone calls, phone numbers for each councilperson can be found at this link.
Did You Know?
The HSCMC has been a strong presence in the Clarksville community since it was chartered in 1968, and local residents have come to depend upon us and expect us to be involved with all issues and problems related to our community's companion animal population
The HSCMC is the only animal-welfare organization in Clarksville – Montgomery County that provides a broad range of services geared toward our citizens, in addition to our ongoing efforts to support and assist homeless, abandoned, injured and abused animals in our community
The HSCMC offers a reduced cost spay-neuter voucher program for any pet owners in Montgomery County and surrounding areas. We have spayed and neutered over 3,000 pets since the program's inception in 2004
The HSCMC offers emergency financial aid, pet food & pet supplies to hundreds of families in need. In 2010, we provided 4923 lbs. dry dog food, 1440 lbs. dry cat food, 1259 lbs. cat litter, 777 cans of cat food, 916 cans of dog food to elderly, disabled, fixed and low-income pet owners, and over $3055 of emergency veterinary services for family pets
The HSCMC offers financial aid and material assistance to local and regional rescues and shelters that assist with saving animals from the Montgomery Co. area. In 2010, we provided 588 lbs. dog food, 83 cans cat food, 200 lbs. dry cat food, and 140 lbs. of litter to these rescue organizations
The HSCMC offers humane education for improving the quality of life for chained or tethered animals and our members were instrumental in shaping and strengthening recent changes to our local animal laws that not only protect pets from neglect and abuse, but also improve safety and quality of life in Clarksville neighborhoods
The HSCMC has a 24-hour telephone help line with 9 menu options to answer a wide range of inquiries from anyone who may not otherwise know how or where to get the information regarding pet-related topics. In 2010, we handled 5145 telephone inquiries
The HSCMC provides the community with health-tested, vaccinated, and spayed or neutered adoptable dogs and cats to families. Without a physical shelter, all HSCMC adoptable pets are housed in foster homes on a space available basis. In 2010, we adopted out 12 cats and 51 dogs. Of those, 24 were pulled directly from the local county Animal Control shelter to avoid euthanasia
The HSCMC has plans to establish Spay-Neuter Clarksville!, this community's first-ever low-cost high-volume spay-neuter clinic which will be open to every citizen regardless of income. This will save Clarksville citizens a great deal of money while also reducing the number of unwanted animals in our community, which in turn will lower euthanasia rates at the county Animal Control shelter
The HSCMC partnered with Montgomery County Animal Control & Adoption Service in January 2009 in an effort to help the shelter reduce euthanasia and increase adoptions. So far, the partnership has seen an increase in adoptions by about 25%