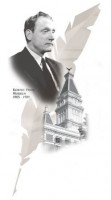 Clarksville, TN – It's hard to believe that almost a year has gone by since I was hearing Rheta Grimsley Johnson, William Gay, Chuck Sambuchino, Tom Franklin and other writers who spoke at last year's fantastic Clarksville Writers' Conference at Austin Peay State University. Yet here it is—time again to sign up for this year's conference which will be held on July 14th – 15th
One of the best things for many of us is that the conference is being held in the middle of July this year rather than near the end as it was in former years. (At least for me, that will give me more time to write up what I heard there so that I can share it with you.) The timing will also allow you have to schedule other activities (like writing your book!) before summer ends.
As was possible last year, literary agent Gordon Warnock of Andrea Hurst Literary Management is available for free consultations about your work. You can schedule a time to show him what you are writing and get his suggestions.
That's just part of the $190.00 fee (including the banquet) that you pay for the entire conference. (The registration fee goes up to $210.00 if you don't pay prior to June 29th.) Remember that two lunches (Thursday and Friday) are also included in this bargain rate. The food is excellent at every meal. Last year's banquet featured prime rib and all the trimmings including a huge selection of gourmet desserts.
Other options for attending include just the two days of workshops with two lunches ($160.00 or late fee $170.00); one day of workshops and one lunch ($85.00 or late fee $95.00); or you can just attend the banquet for $40.00 (or $50.00 after June 29th).
Another change is that the superb banquet is being held on Thursday, July 14th, at the Clarksville Country Club on the first night of the conference rather than on Friday night (as has been the practice in previous years). You'll be able to speak with the authors that night, have them autograph copies of their books, and also hear the keynote speaker, William R. Ferris. The Meet the Authors event begins at 6:00pm with dinner at 6:45pm.
Other authors who will be presenting at the two day conference this year include Darnell Arnoult, Sarah Blackman, Blas Falconer, Beth Ann Fennelly, Tom Franklin, William Gay, Amy Greene, Rheta Grimsley Johnson, David James Poissant, Stephanie Pruitt, John Pursley III, Chuck Sambuchino, Gordon Warnock, Meredith Sue Willis and Amy Wright.
The Thursday and Friday workshops are held on the third floor of the beautiful Morgan University Center at Austin Peay State University. Special parking passes are provided. You have three choices of authors to hear for each session. I suspect that the reason most authors are returning from last year is that many people wanted to hear someone they had to miss because you want to hear everyone but it just isn't possible with three great choices at once.
Snacks are provided throughout the day and a bookstore is available so that you can purchase books of each author who attends.
Anyone who likes to write or read will have a great time at this event. You don't have to have aspirations of becoming a published writer to attend, but if you do, you will be so inspired by hearing these people that you'll go home with enough inspiration to last you for the year ahead. On the other hand, if you've ever wondered just what makes a famous writer "tick" or couldn't imagine where those ideas come from, you'll be amazed to learn that famous authors have had some of the same experiences you have had. For instance, Meredith Sue Willis has written a book called Ten Strategies to Write Your Novel, and has published Out of the Mountains, a book of literary Appalachian stories.
Who knows? You might just be the next person to follow in her footsteps based on what she has to reveal at the Clarksville Writers' Conference 2011. You'll never know unless you attend.
The web site is www.artsandheritage.us/writers/ and there you'll find all the information you need for registration.
Biographies
William R. Ferris
 Keynote Speaker
William R. Ferris, a widely recognized leader in Southern studies, African American music and folklore, is the Joel R. Williamson Eminent Professor of History at the University of North Carolina at Chapel Hill and the senior associate director of its Center for the Study of the American South. He is also adjunct professor in the curriculum on folklore.
The former chairman of the National Endowment for the Humanities, Ferris has conducted thousands of interviews with musicians ranging from the famous (B.B. King) to the unrecognized (Parchman Penitentiary inmates working in the fields).
He has written or edited 10 books and created 15 documentary films. He co-edited the massive Encyclopedia of Southern Culture (UNC Press, 1989), which was nominated for a Pulitzer Prize. His other books include: Mule Trader: Ray Lum's Tales of Horses, Mules and Men (1992), Local Color (1982, 1992), Images of the South: Visits with Eudora Welty and Walker Evans (1978), Mississippi Black Folklore: A Research Bibliography and Discography (1971) and Blues from the Delta (1970, 1978, 1988).
Bill Ferris' films include Mississippi Blues (1983), which was featured at the Cannes Film Festival. He has produced numerous sound recordings and hosted "Highway 61," a weekly blues program on Mississippi Public Radio for nearly a decade. He also has published his own poetry and short stories.
A native of Vicksburg, Mississippi, Ferris was the founding director of the Center for the Study of Southern Culture at the University of Mississippi, where he taught for 18 years. He also taught at Yale University and Jackson State University. A graduate of Davidson College, he received a Ph.D. in folklore from the University of Pennsylvania (1969).
He has won many prestigious honors, including the Charles Frankel Prize in the Humanities, the American Library Association's Dartmouth Medal, the Mississippi Institute of Arts and Letters Award, and the W.C. Handy Blues Award. In 1991, Rolling Stone magazine named him among the Top Ten Professors in the United States. He is a Fellow of the American Folklore Society.
At Carolina, Ferris has been teaching classes on the history of music in the American South and its impact on the region's history and culture. His students have explored Native American songs, Appalachian folk ballads and Afro-American hymns, spirituals and work chants, and considered a range of forms including blues, country music, gospel, jazz, rock and rap.
Darnell Arnoult
Darnell Arnoult is the author of the Southern novel Sufficient Grace, as well as What Travels With Us: Poems, winner of the Appalachian Studies Association's Weatherford Award and the 2006 SIBA Poetry Book of the Year. Her fiction and poetry have been published in a variety of journals, and she has taught creative writing to adults for over fifteen years.
In 2007, she was named Tennessee Writer of the Year by the Tennessee Writers Alliance, and she was recently awarded the Mary Frances Hobson Medal for Arts and Letters. Darnell and her husband live on a small farm near Nashville, Tennessee. Visit her on the web at www.darnellarnoult.com.
Sarah Blackman
Sarah Blackman is the Director of Creative Writing at the Fine Arts Center, a public arts high school in Greenville, South Carolina, and the co-fiction editor of DIAGRAM. Her most recent work has been published or is forthcoming in The Gettysburg Review, The Laurel Review, and The Missouri Review. Her fiction chapbook Such a Thing as America is available from Burnside Review Press.
Blas Falconer
Blas Falconer is an assistant professor at Austin Peay State University, where he serves as the poetry editor of Zone 3 Magazine/Zone 3 Press. He is the author of The Perfect Hour (Pleasure Boat Studio: A Literary Press, 2006) and A Question of Gravity and Light (University of Arizona Press, 2007).
Falconer's awards include Maureen Egen Literary Award from Poets & Writers, the New Delta Review Eyster Prize for Poetry, the Barthelme Fellowship, and a 2011 National Endowment for the Arts Fellowship.
Beth Ann Fennelly
Beth Ann Fennelly is an associate professor at the University of Mississippi, and lives in Oxford, Mississippi. She has received a 2003 National Endowment for the Arts Award and a 2006 United States Artist Grant.
Fennelly has published three books of poetry, all from W. W. Norton: Open House, which won The 2001 Kenyon Review Prize, the GLCA New Writers Award, and was a Book Sense Top Ten Poetry Pick; Tender Hooks; and Unmentionables. Great with Child: Letters to a Young Mother, a book of nonfiction, was published by Norton in 2006. Her poems have been reprinted in Best American Poetry 1996, 2005, and 2006, Contemporary American Poetry, The Penguin Book of the Sonnet, The Pushcart Prize, and Poets of the New Century. She won a Fulbright grant to Brazil and spent the spring of 2009 there alongside her husband, fiction writer Tom Franklin, and their three small children.
Tom Franklin
Tom Franklin is the author of The New York Times Bestselling novel Crooked Letter, Crooked Letter (Harper-Collins, 2010), which recently earned an LA Times Book Prize for "Best Mystery/Thriller." Franklin's other novels include Smonk and Hell at the Breech, winner of the Mississippi Institute of Arts and Letters Award and the Alabama Librarians Award and optioned for film by singer Tim McGraw. His collection of stories, Poachers, whose title novella won the Edgar Allan Poe Award, was reprinted in Best American Mystery Stories of the Century.
Franklin has won a Guggenheim Fellowship and has been the John and Renee Grisham Writer-in-Residence at Ole Miss, the Tennessee Williams Writer-in-Residence at Sewanee, and the Philip Roth Resident at Bucknell University. He currently teaches at Ole Miss and lives in Oxford, Mississippi, with his wife, poet Beth Ann Fennelly, and their three children.
William Gay
William Gay established himself as "the big new name to include in the storied annals of Southern Literature" (Esquire) with his debut novel, The Long Home, which won the 1999 James A. Michener Memorial Prize, and his highly acclaimed follow-up, Provinces of Night, which was recently adapted into a film starring Kris Kristofferson, Val Kilmer and Dwight Yoakam. His third novel Twilight is Southern Gothic, with its elements of the grotesque and perverse, its psychological extremes and its fixations on violence and sex. His books have been hailed by the critics, Publishers Weekly, The New York Times Review of Books, The Washington Post Book World, Library Journal and USA Today.
Amy Greene
Born in the foothills of the Smoky Mountains near Knoxville, Tennessee, Amy Greene began writing stories about the people of Appalachia from a very young age. In high school English class she discovered writers who provided further inspiration: Carson McCullers, William Faulkner and the Brontë sisters. In 2003, married with two small children, Greene enrolled in Vermont College's low–residency undergraduate program and left the South for the first time on twice yearly trips to the Montpelier campus. It was during this time that she began work on her first novel, Bloodroot. Before graduating in early 2008, Greene attended the 2007 Sewanee Writers' Conference on the campus of The University of the South in Sewanee, Tennessee, where she met writer Jill McCorkle, who introduced her to New York literary agent Leigh Feldman. A month later, Greene learned that Bloodroot would be published by Alfred A. Knopf.
Having not forgotten her roots, Greene still lives in the community where she was born and raised, along with her husband, Adam, a freelance sportswriter, and their two children, Taylor and Emma. She is currently writing a second novel about the Tennessee Valley during the Great Depression. Visit her on the web at www.amygreeneauthor.com.
Rheta Grimsley Johnson
Rheta Grimsley Johnson has covered the South for over three decades as a newspaper reporter and columnist. She writes about ordinary but fascinating people, mining for universal meaning in individual stories. In past reporting for United Press International, The Commercial Appeal of Memphis, the Atlanta Journal Constitution and a number of other regional newspapers, Johnson has won national awards. They include the Ernie Pyle Memorial Award for human interest reporting (1983), the Headliner Award for commentary (1985), the American Society of Newspaper Editors' Distinguished Writing Award for commentary (1982). In 1986 she was inducted into the Scripps Howard Newspapers Editorial Hall of Fame. In 1991 Johnson was one of three finalists for the Pulitzer Prize for commentary. Syndicated today by King Features of New York, Johnson's column appears in about 150 papers nationwide.
She is the author of several books, including America's Faces (1987) and Good Grief: The Story of Charles M. Schulz (1989). In 2000 she wrote the text for a book of photographs entitled Georgia. NewSouth Books published her memoir Poor Man's Provence: Finding Myself in Cajun Louisiana in 2008 and also her newest memoir, Enchanted Evening Barbie and the Second Coming.
A native of Colquitt, GA, Johnson grew up in Montgomery, AL, studied journalism at Auburn University and has lived and worked in the South all of her career. Recently widowed, she is 56 and lives with three dogs and two cats in Iuka, Mississippi.
David James Poissant
David James Poissant's stories appear or are forthcoming in The Atlantic, Playboy, The Chicago Tribune, The Southern Review, The Greensboro Review, Mississippi Review, One Story, and in the anthologies New Stories from the South 2008 and Best New American Voices 2008 and 2010.
Winner of the Playboy College Fiction Contest, the AWP Quickie Contest, the George Garrett Fiction Award, and 2nd and 3rd Prizes in the Atlantic Monthly Student Writing Contest, Poissant holds an MFA from the University of Arizona and is currently a PhD candidate and Taft Fellow at the University of Cincinnati. He will join the MFA faculty at the University of Central Florida in Orlando this fall.
Stephanie Pruitt
Stephanie Pruitt is a poet, arts educator and dot-connecting, innovative thinker. This Cave Canem Fellow and member of the Affrilachian Poets received the 2010 Academy of American Poets Prize, the 2009 Sedberry Prize and was a finalist for Poets and Writers' Maureen Egen Award. Essence Magazine selected her as one of their "40 Favorite Poets" in 2010.
Stephanie is the author of I Am: A Poetic Journey Towards Self Definition and a chapbook entitled Life on Lay-a-way in addition to a spoken word CD, Choice Words. Her work has appeared in numerous journals, magazines and anthologies. She earned her MFA in Creative Writing at Vanderbilt University and is currently the Poet-in-Residence at the Curb Center for Art, Enterprise and Public Policy. Stephanie is on the faculty of Vanderbilt University's English Department and leads local writing workshops for and serves on the Board of Directors of Magadalene House, a recovery community for women. Her poems have been described as: "high art with a hearty dose of biscuit-sopping goodness." Stephanie gardens, scours used bookstores and receives most of her mail in Nashville, TN.
John Pursley III
John Pursley III teaches at Clemson University. He is the author of If You Have Ghosts, the Editors' Poetry Prize Selection for Zone 3 Press, and four chapbooks, A Story Without Poverty (Stepping Stones Press 2010), Supposing, for Instance, Here in the Space-Time Continuum (Apprentice House Press 2009), A Conventional Weather (New Michigan Press 2007) and When, by the Titanic (Portlandia Press 2006). His work has appeared in AGNI, Mississippi Review, and Poetry.
Chuck Sambuchino
Chuck Sambuchino is an editor for Writer's Digest Books (an imprint of F+W Media). He is the editor of two annual resource books: Guide to Literary Agents, as well as Screenwriter's & Playwright's Market. He also assists in editing Writer's Market. He recently helmed the third edition of Formatting & Submitting Your Manuscript (a WD trade book), and he has a new humor book with Ten Speed Press/Random House, How to Survive a Garden Gnome Attack: Defend Yourself When the Lawn Warriors Strike (And They Will).
Chuck is a former staffer of several newspapers and magazines. During his tenure as a newspaper staffer, he won awards from both the Kentucky Press Association and the Cincinnati Society of Professional Journalists. Chuck is also a writer and freelance editor. He is a produced playwright, with both original and commissioned works produced, as well as a magazine freelancer. More than 500 of his articles have appeared in newspapers, magazines and books. Visit Chuck's blog at www.guidetoliteraryagents.com/blog.
Gordon Warnock
Gordon Warnock is a Literary Agent with Andrea Hurst Literary Management, and has a degree in Creative and Professional Writing. He works diligently with authors to develop and polish their manuscripts and book proposals. With a zest for fresh, new writing and a deep love of the classics, Gordon always has his eye out for works which will not only thrive in the current market but will also withstand the test of time.
Meredith Sue Willis
Meredith Sue Willis was raised in Shinnston, West Virginia, where her father's family came following jobs with Consolidation Coal Company. She has roots and relatives in southwestern Virginia and northeastern Tennessee. She now lives in New Jersey near New York City where she is an Adjunct Assistant Professor of Creative Writing at New York University's School of Continuing and Professional Studies as well as a frequent visiting writer-in-the-schools in New York and New Jersey. She has degrees from Barnard College and Columbia University as well as an honorary doctorate from West Virginia University.
Her novels and short fiction have been published by Scribners', HarperCollins, West Virginia University Press, Mercury House, Ohio University Press and others. Her latest books are Ten Strategies to Write Your Novel and a book of literary Appalachian stories called Out of the Mountains, praised in Booklist as a "finely crafted collection…worth reading twice to discover all its intricacies and connections." Her earlier Appalachian collection was praised by the New York Times Book Review as "a[n]…important lesson on the nature and function of literature itself." She also writes books for teachers about writing, and novels for children. For more information, please see her website at www.meredithsuewillis.com.
Amy Wright
Amy Wright is the Nonfiction Editor of Zone 3 Press and the author of two chapbooks, Farm (Finishing Line Press: 2010) and There Are No New Ways To Kill A Man (Apostrophe Books: 2009). Her prose and poetry appear in numerous literary journals, including Sonora Review, Asymptote, American Letters & Commentary, Quarter After Eight, 5×5, Bellingham Review, Quarterly West, and The Southern Poetry Anthology, Volume III: Southern Appalachia.
Photo Galleries
Photos from last years Clarksville Writer's Conference.
Architectural Heritage Tour
Banquet
Presentations