APSU Men's Baseball

Jackson, TN – Austin Peay State University starting pitcher Jeremy Dobbs was named the Ohio Valley Conference's "Pitcher of the Year," head coach Gary McClure received his fifth "Coach of the Year" citation and 10 Austin Peay baseball student-athletes received postseason recognition, the league office announced during the postseason baseball awards banquet, Tuesday night.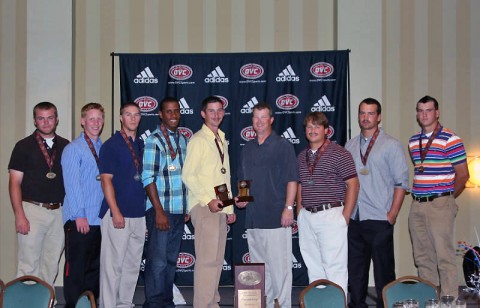 Jeremy Dobbs
Dobbs, of Owensboro, KY, was also a first-team All-OVC selection and is the eighth Austin Peay pitcher to receive the OVC's "Pitcher of the Year" honor and the first since Shawn Kelley in 2007. He led the league with eight victories this season, posting an 8-2 record, including a 4-1 mark in conference play as the Govs No. 1 starter.
The junior ranked third among OVC pitchers in ERA (3.66) while striking out a league-best 80 batters in 78.2 innings. His 9.15 strikeouts per nine innings ranked second in the league while he limited opposing batters to a .261 batting average, fourth best in the league.
Gary McClure
McClure, in his 24th season at the Govs helm, became the third OVC head coach to earn five or more "Coach of the Year" honors, joining Eastern Kentucky's Jim Ward with five and now is two behind Murray State's Johnny Reagan's record of seven.
This season, McClure led a team that did not start a senior on defense to a 30-22 record and 17-6 OVC record, posting the second-best OVC win percentage (.739) in program history and good for its seventh OVC regular-season title.
First-Team All-OVC honors
In addition to Dobbs, John Hogan and Reed Harper also received first-team All-OVC honors. It is the first time since 2003 the Govs have had three or more players earn first-team recognition.
Sophomore First baseman John Hogan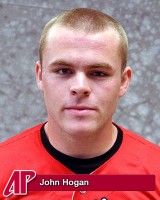 Hogan, of St. Louis, MO, led the league with 58 RBI and ranked second with 12 home runs – the most by a Governors hitter since 2002. He was twice named adidas OVC Player of the Week twice – the only Govs player to receive multiple weekly honors this season.
Hogan was a major factor in the Govs second-half push, batting .364 with eight home runs and 38 RBI in the regular-season's final 30 games. He enters the upcoming OVC Baseball Championship with five home runs in his last seven games.
Sophomore Shortstop Reed Harper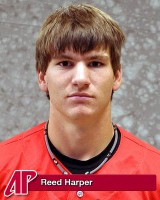 Harper, of Clarksville, TN, pieced together the OVC's longest hit streak this season – a 29-game stretch that began April 1st and was stopped on the regular season's final day. His .431 batting average during that streak pushed his overall batting average to .343, 12th best in the OVC.
Harper also finished fifth among league hitters with 17 doubles and was ninth with 10 stolen bases.
Second-Team All-OVC Honors
Austin Peay also had four players receive second-team All-OVC honors.
Freshman Second Baseman Jordan Hankins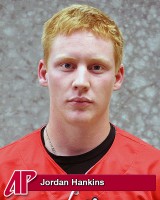 Hankins, of Wentzville, MO, also received All-Freshman team recognition after leading the Govs in batting average for all but two games during the season and finished the regular-season with a .378 mark, ranking fifth best among all hitters and best among qualifying freshman players.
Junior Third Baseman Greg Bachman
Bachman, of Germantown, TN, returned to the Govs lineup after missing last season due to a shoulder injury. After getting off to a slow start at the plate, he blossomed in the last 30 games, batting .409 with six home runs and 33 RBI. Bachman finished the season batting .333 with seven home runs and 43 RBI, ranking 18th, 12th and 10th among OVC players in each respective category.
Junior Outfielder Michael Blanchard
Blanchard, of Memphis, TN, enjoyed a breakout junior campaign with 47 starts in center field after starting just 43 games in his previous two seasons combined. He finished the regular season with a league-leading 25 stolen bases, becoming the eighth Austin Peay player to record 25 stolen bases in a single season.
Blanchard finished the season batting .331 – 19th among OVC hitters – while posting a .438 on-base percentage that was seventh best in the league.
Junior Pitcher Zach Toney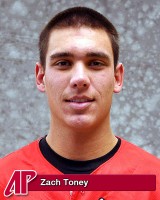 Toney, of D'Iberville, MS, began the season in the bullpen and was named the adidas OVC Player of the Week after the opening weekend after retiring all 12 batters he faced against Valparaiso, February 28th. However, he moved into the starting rotation the next weekend and settled in to the No. 3 spot in the weekend rotation by OVC play. Toney finished his first season at APSU with a 5-2 record and 4.36 ERA, ranking 10th in victories and ninth in ERA.
All-Freshman Team
Joining Hankins on the league's All-Freshman team were:
Catcher Matt Wollenzin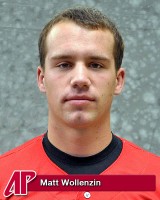 Wollenzin, of Lakewood, CO, moved into the No. 1 catcher's role in April and became a serious threat at the plate, batting .414 with 17 RBI in the regular-season's final 30 games.
He finished the campaign with a .370 batting average while posting a .412 mark in conference play.
Outfielder Rolando Gautier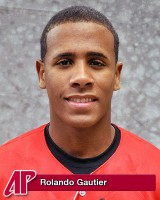 Gautier, of Pennsauken, NJ, began the season on a tear with an 18-game hit streak and a 30-game streak of reaching base safely.
While he cooled off in the regular season's final two months, he finished with a .298 batting average and 23 RBI.