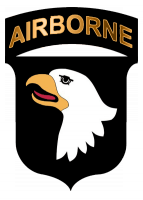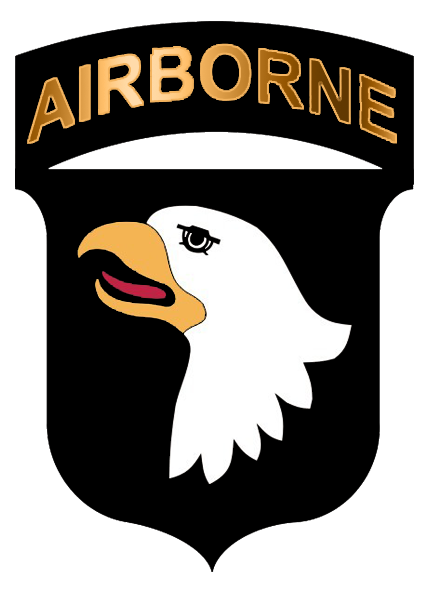 Fort Campbell, KY – The second of two flights arrived at Campbell Army Airfield around 8:00pm Tuesday night bring home another 40 soldiers with the 2nd Brigade Combat Team. Just a short time after another amazing sun set on Campbell Army Airfield, the plane made it way to the tarmac.
As Chinook, Black Hawk and Scout helecopters flew above, Soldiers made their way toward Hanger 3 as they returned from a year long deployment to Afghanistan as a group of friends and family members gathered to welcome them home.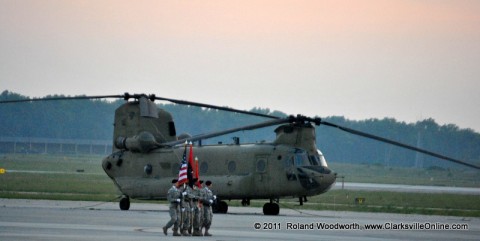 Jessica Malone was so excited to see her husband LT Cliff Malone. She was there with her mother Cindy Kelaita, her daughter Hanna and son Riley along with Cliff's father Mike. The family is just happy to have him home again. Jessica stated that they are ready for a Disney Vacation, a trip to Pensecola, Florida and a visit to Lousiana for some crawfish and crabs.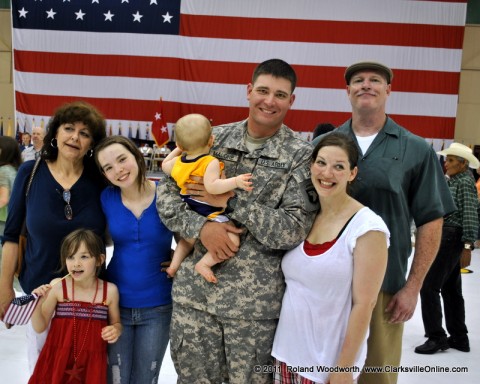 Soldiers made their way inside Hanger 3 and were greeted by Commanding General Maj. Gen. John F. Campbell who welcomed them home in a brief ceremony. He thanked them for their dedication and sacrafices they have endured. Brigadier General Jeffrey N. Colt was also in the stands to welcome home these soldiers.
Once released for 15 minutes of family time, soldiers were able to hug and kiss their spouces and children for the first time in a year. Time seems to go by so fast, as the announcement came for all family members to return to their seats and soldiers are called back to formation.
If you wish to attend a Welcome Home Ceremony, check the flight schedules online, as times are subject to change at anytime. When arriving to Fort Campbell, enter via Gate 7; if you don't have installation stickers on your vehicle, you will be required to get a visitor pass. From there just follow the signs to the ceremony parking. Waiting buses transport family members safely to the hanger.
Photo Gallery