APSU Men's Baseball

Atlanta, GA – Austin Peay's baseball team makes its third visit to the NCAA Baseball Championship in the last seven seasons when it meets host Georgia Tech in a 7:00pm, Friday opening-round contest of the Atlanta Regional at Russ Chandler Stadium.
Austin Peay (33-22) received the Ohio Valley Conference's automatic berth after winning the league's tournament in a three-game sweep. The Governors, who also won the OVC's regular-season title, enter the NCAA Tournament with wins in 15 of its last 18 contests.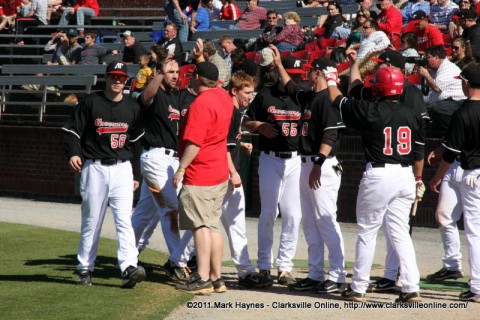 The 18-game stretch has seen the Govs offense and pitching staff rise to the occasion. Austin Peay's offense is batting .318 and averaging 7.8 runs per game in the last 18 games. Meanwhile, the pitching staff has posted a 3.72 ERA while limiting opponents to a .273 batting average.
Sophomore first baseman John Hogan, a first-team All-OVC selection, leads the Govs offense with 13 home runs and 62 RBI while batting .317 this season. Freshman second baseman Jordan Hankins, a second-team All-OVC honoree and the team's leading hitter (.361), will look to get back on track after being held hitless in the OVC Tournament.
Junior left-hander Jeremy Dobbs will get the nod as the Governors starter against Georgia Tech. The OVC Pitcher of the Year enters tourney action with a 9-2 record and 3.43 ERA with 85 strikeouts in 86.2 innings pitched.
Following Dobbs this weekend will be 0senior left-hander Jack Snodgrass and junior southpaw Zach Toney – forming the rest of the nation's only left-handed weekend rotation. Snodgrass won OVC Tournament "MVP" honors after striking out a career high 11 batters in the Govs second game. He brings a 3-6 record and a 3.72 ERA that ranked fifth among league pitchers. Toney, the Govs Game 3 starter, posted a 6-2 record and 4.33 ERA this season, ranking 8th in victories and ninth in ERA among OVC pitchers.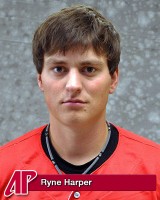 If and when the starters leave the mound, the Govs will turn to the Ohio Valley Conference's top bullpen, which posted a 3.16 ERA during league play with a 7-1 mark and six saves. Senior closer Ryne Harper brings a 6-2 overall record and eight saves into the tournament. Junior Mike Hebert has been Harper's setup man and has a 3.63 overall ERA with 31 strikeouts in 39.2 innings.
The winner of Friday's contest will meet the winner of the Southern Miss-Mississippi State contest at 7:00pm, Saturday. The two first-round losers will meet each other in a 3:00pm, Saturday contest. A complete bracket is available on page three of this notes package.
Govs NCAA Tourney Notes
Austin Peay has made three previous NCAA baseball tournament appearances, each hosted by SEC schools. the Govs played in the 1996 tournament at the South II Regional, hosted by LSU. APSU returned to the tournament in 2005 at the Knoxville Regional, hosted by Tennessee and were back two years later in 2007 at the Nashville Regional hosted by Vanderbilt. The Govs are 1-6 in the tournament proper, but also have won a play-in series, 2-1, against Southern to make the field in 1996.
Notes From Govs Last visit To Tourney
Austin Peay faced overall No. 1 seed Vanderbilt in its first game of the 2007 NCAA Baseball Championship, pushing the host to 11 innings before falling 2-1. The Commodores two runs came courtesy a wild pitch in the sixth and an 11th-inning error. Austin Peay forced extra innings courtesy Tyler Farrar's ninth-inning leadoff home run. Govs starter Shawn Kelley went 10 innings and struck out nine. 
Vanderbilt starter David Price struck out 17 batters over nine innings. The Govs recovered to post their first-ever NCAA Tournament win with an 18-7 victory against in-state rival Memphis. APSU starter Matt Reynolds went three innings before a three and a half hour rain delay forced him from the mound. Farrar had three RBI in the Memphis contest. 
Austin Peay jumped out to a 3-0 lead against Vanderbilt, but could not hold on in a 11-5 tourney-ending loss. Kelley, Farrar and catcher Matt Smith were each named to the All-Region Team. Price, Kelley and Reynolds have each appeared on a Major League roster since playing in the tournament.