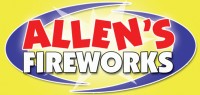 Clarksville, TN – Allen's Fireworks held their third annual June Boom Over Clarksville event on Saturday. The fireworks exhibition gives the public an up close look and preview of fireworks that are available for you to use at your own celebrations.
Allen's Fireworks, is the regions premiere fireworks store. They are not affiliated with the tents you see around town. Fireworks purchased at outdoor tents can be affected by the heat and moisture which can affect the performance of the fireworks. Allen's fireworks are stored in a completely climate controlled environment. They offers a no duds guarantee on all fireworks. Allen's Fireworks is a family business and has been a part of the Clarksville community for over 65 years.
Check out Allen's Fireworks at their web site at http://www.pyroexperts.com/.
The event was sponsored by The Lodge Sports Pub, Governor's Square Mall , Ad One Advertising and Saga Communications.
Photo Gallery
List of Fireworks Displayed
200 Gram Aerials
1
American Dogfight
20 Shots
2
Thunder Boomer
16 Shots
3
Anger Management
49 Shots
4
Piranha Attack
19 Shots
5
D-Day
10 Shots
6
Corvette
16 Shots
7
Mustang
16 Shots
8
Charger
16 Shots
9
Chevelle
16 Shots
10
Thunderbird
16 Shots
11
Chevy II
16 Shots
12
Invasion
8 Shots
13
Pyro Graffiti
16 Shots
14
Pyro Magic
36 Shots
15
Radioactive
9 Shots
16
Dare Devil
12 Shots
17
Dueling Wizards
25 Shots
 
Reloadables
18
Zeus Assorted Breaks
24 Shots
 
500 Gram Aerials
19
TNT 500
16 Shots
20
Lift Off
16 Shots
21
War Chest
14 Shots
22
Proud
16 Shots
23
King of the Road
49 Shots
24
After Shock
36 Shots
25
Chicken on a Chain
12 Shots
26
Shotgun Wedding
36 Shots
27
NASCAR Star
9 Shots
28
Fire and Steel
9 Shots
29
Altered Reality
57 Shots
30
Open Fire
33 Shots
31
Red, White & Blue Forever
16 Shots
32
Catastrophe
22 Shots