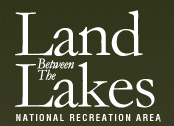 Golden Pond, KY – In celebration of National Get Outdoors Day, Land Between The Lakes (LBL) will be waiving fees at participating day-use facilities on Saturday, June 11th. General admission to Woodlands Nature Station, Elk and Bison Prairie, and the 1:00pm Golden Pond Planetarium show will be free (does not include special events).
Wranglers Campground will also be waiving day-use riding fees. 
"We want to take this opportunity to give back to our communities and encourage people to recreate on federal public lands such as LBL," stated LBL Customer Service Manager, Brian Beisel.
The USDA Forest Service is participating in the fee waiver weekend along with the National Park Service, the US Fish and Wildlife Service, and the Bureau of Land Management.  Be on the lookout for other fee waiver days in September to celebrate National Public Lands Day and in November in honor of Veterans Day.
About Land Between The Lakes
Land Between The Lakes is managed by the Forest Service, U.S. Department of Agriculture, in partnership with Friends of LBL, to provide public lands outdoor recreation and environmental education. Additional information is available on our website at www.lbl.org, or by calling 1-800-LBL-7077 or 270-924-2000.