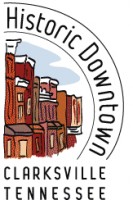 Clarksville, TN –  Downtown Clarksville's 6th annual celebration of the arts, "Frolic on Franklin" will take place Saturday, September 17th. Hosted by the Downtown Clarksville Association, the event will showcase the works of 25 local and regional artists amidst the captivating architecture of the 100 block of historic Franklin Street.

A variety of works will be on display including jewelry, pottery, water color and oil prints, woodwork, ceramics, porcelain, photography and more. Pieces will be for sale with prices ranging from $5.00 – $500.00.

Several artists will also provide demonstrations of their work throughout the day including painting and decorating glass ornaments, making wooden items with lathes, and various types of painting.

In addition to artist booths, the event will feature a performing Renaissance troupe, live music, along with dance and other performing groups throughout the day. Adjacent shops and restaurants will also be open.

The event will be held from 9:00am-5:00pm and there is no admission charge. Find out more about the event on Facebook.



Sections
Events
Topics
ceramics, Downtown Clarksville, Downtown Clarksville Association, Franklin Street, Frolic on Franklin, Jewelry, Photography, Pottery