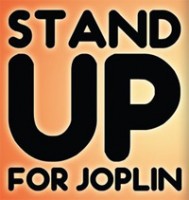 Clarksville, TN – Come out to Lifepoint Church, Saturday, June 18th for the Stand Up for Joplin comedy benefit show. The show features Nashville area comedians Jonnie W., Renard Hirsch and Rik Roberts.
Proceeds from this night of comedy goes to benefit Convoy of Hope and their efforts to help those in Joplin, MO affected by the tornadoes.
Tickets are $10.00 per person. The show starts at 7:00pm. Lifepoint Church is located at 1915 Rossview Road.
There is no childcare available for this event.
For further information about Stand Up for Joplin, call 931-920-5594.
Rik Roberts
Born in Lexington, KY, Rik was instilled with down home values and the type of politeness and courtesy you get used to in a small town. After graduating High School, Rik earned a bachelor's Degree in Communications from Bethany College in West Virginia.
He started his comedy career in Columbus, OH while working a day job at Simon & Schuster Publishing. Early comedy experiences included landing a spot with the nation's top touring improvisation comedy troupe "Midwest Comedy Tool & Die."
Beginning in 1997, Rik started headlining at America's top comedy clubs. Nearly ten years later Rik has become a favorite at The Improv, The Punchline, Funny Bone, The Stardome, Zanies – you name it! It was this background that led to his current career of corporate entertaining.
Rik moved to Nashville in 1998 and turned up the heat on his career. He quickly appeared in videos on Great American Country. He began regular appearances on syndicated morning shows. His dedication to "clean" comedy earned him an episode of the Emmy award winning "Bananas Family Comedy" show. Shortly after that he was tapped to expand his Barney Fife Impression on "Comedy at Large."
Rik enjoys spending time with his wife and their new baby boy. Watch for his upcoming documentary "Daddy's First Year" – a humorous look at the preparation a father-to-be makes before and the adjustments that follow childbirth. He also enjoys teaching comedy classes at his home club "Zanies" in Nashville, TN.
Want to know more about Rik … simply hire him for your next event!
Visit Rik on the web at: www.rikroberts.com, www.schooloflaughs.com and www.fifeismylife.com.
Renard Hirsch
Renard Hirsch is one of the most versatile performers in the entertainment industry. After graduating high school Renard continued his education at Tennessee State University where fell in love with the world of theater, His previous theatre performances include, A Raisin in the Sun (George/Moving Man), Seven Guitars (Red Carter), Blues for an Alabama Sky (Dr. Sam Thomas), The Piano Lesson (Doaker), and Waiting to End Hell (Alvin).
While in college Renard began writing his one man show based on the life of civil rights leader Adam Clayton Powell Jr. which he still performs today for churches and banquets. As a poet Renard has been featured on numerous recordings and at spoken word events and has recently released a comedy/poetry album called "Cometry". His film credits include The Green Mile, The Civil Brand, Drumline, Lincoln Heights, Hancock, and most recently Love, Life, and Hollywood.
After working as an actor Renard learned the true art of performance and was encouraged by many of his friends to attempt stand up comedy. As a stand up comedian, Renard has performed at the World Famous Laugh Factory, The Comedy Store, Zanies(Chicago and Nashville), Jokes and Notes, Morty's, Ha Ha's Comedy Cafe. As a comic he has appeared on BET's "A Time to Laugh" and has hosted and featured shows for Griff, K-Dubb, Damon Williams, B Cole, G-Thang, Tyler Craig, Gilbert Esquavez, Manny Maldanado, Dale Jones, Sherman Golden, Bret Ernst, Michael Colyar, John Reep, Sommore, and Kevin Hart.
Renard serves as the producer and host for the Urban Professionals Ski Weekend in Pigeon Forge, TN and The Weekend Getaway in Savannah GA. He has also performed as the opening act for Gospel Singer Niyoki. Renard's style is very versatile, he can reach any audience, weather he is telling jokes in the smallest hole in the wall club or in church, he can reach you wherever you are.
You can find more on Renard at his MySpace page.
About Jonnie W.
"Once in a generation, someone comes along with the power to inspire us all. Jonnie W. will make fun of that person on stage, and you'll feel better about yourself.
One of Jonnie's favorite activities is composing bioggraphical information about his life and carreer, and writing about himself in third person.
He lives in Nashville, TN. Because that's where all his stuff is.
To learn more about Jonnie, check out his website at: www.jonniew.com.
About Convoy of Hope
Since Convoy of Hope, a 501(c)3 nonprofit organization, was founded in 1994 we have served more than 43 million people throughout the world through international children's feeding initiatives, community outreaches, disaster response and partner resourcing.
Currently, there are more than 89,000 children in our feeding initiatives in El Salvador, Haiti, Dominican Republic, Honduras, Kenya, Nicaragua and the Philippines. Through the feeding initiatives we provide good nutrition, clean and safe drinking water, instruction on agricultural techniques, healthy living environments and education.
 
Year after year, we are lauded for our effectiveness and efficiency in mobilizing tens of thousands of volunteers for community outreaches and during times of disaster response.
No matter what we are doing, our objective is to always deliver much-needed food, supplies and hope to the impoverished and suffering.
For more information, visit www.convoyofhope.org.
Sections
Events
Topics
Comedy, Jonnie W., Nashville TN, Rik Roberts, Rossview Road, tornadoes