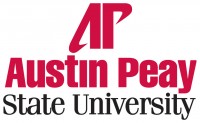 Clarksville, TN – Two Austin Peay State University alumni recently were inducted into the Phi Kappa Phi Chapter 191 Academic Hall of Fame.
Ben Kimbrough ('51) and Fred Landiss ('69, '70) were inducted during the APSU chapter's initiation ceremony. As part of a permanent tribute, their names will be displayed on a plaque housed in the Woodward Library on the main campus.
The APSU PKP chapter established the Academic Hall of Fame in 1997. While it is not necessary for a nominee to hold membership in PKP, the nominee must be an alumnus of APSU who, since graduating, has demonstrated through his or her life the beliefs of The Society. 
Ben Kimbrough
Kimbrough, a Clarksville businessman and philanthropist, has been a dedicated supporter of his alma mater for more than five decades. He most recently was named the recipient of a new honor at APSU, the Outstanding Academic Supporter Award, which recognizes individuals who have made an exceptional effort to promote and support the educational components of the University.
Only a few years after earning his degree, Kimbrough co-founded The Tower Club, an organization that provides financial support to the University. He went on to serve as a member and past president of the APSU Foundation Board of Trustees, a member of the APSU Foundation Investment Committee and past president of the APSU National Alumni Association.
In May 2003, Kimbrough, along with his wife Margaret, jump-started APSU's first capital campaign with a sizable pledge from the couple's estate, plus a large cash donation during the campaign.
In 2004, Kimbrough was honored with the Tennessee Board of Regents Award for Excellence in Philanthropy for his continual support of APSU. His efforts have helped create a thriving academic community at the University, which will continue to inspire and motivate future generations of APSU students.
Fred Landiss
A native of Cumberland City, Landiss currently is senior vice president and director of marketing and public relations at F&M Bank headquartered in Clarksville. Early in his career, he served as director of alumni and director of placement at APSU.
From 2007-10, he taught marketing classes as an adjunct faculty member at APSU. He also sought to provide quality learning experiences for his students and regularly hosted events at F&M Bank for the students to meet and interact with business leaders, professionals and elected officials from the Clarksville area.
He also takes teaching and learning beyond the University walls. He has taught Salesmanship at the Graduate School of Banking of the South at Louisiana State University and bank marketing classes for the American Institute of Banking. He has been a conference speaker and seminar leader for many years and offers customer service and sales programs to a variety of professional groups and companies.
Landiss has had active leadership roles in organizations and activities that support art, cultural diversity, education, economic development and health care. He has been appointed to various civic boards and is active in local and regional leadership organizations.
He was the 2002 recipient of the prestigious Montgomery County Citizen of the Year award presented by the Montgomery County Chapter of the American Cancer Society, and he was named 2010 Clarksville Citizen of the Year for his volunteerism in the community.
Sections
Education
Topics
American Cancer Society, APSU, APSU Foundation Board of Trustees, APSU National Alumni Association, APSU Woodward Library, Austin Peay State University, Ben Kimbrough, F&M Bank, Fred Landiss, Louisiana State University, Phi Kappa Phi