APSU Sports: Men's Football

Clarksville, TN – Austin Peay State University head football coach Rick Christophel announced the addition of longtime coaching-cohort and APSU alum Gary Shephard as the team's new assistant coach, Wednesday. Shephard will take over as linebackers coach effective immediately.
Adding Shephard means reorganizing the defensive coaching staff, and Christophel is pleased with the moves it will allow to him make. Granville Eastman will move from linebackers to the secondary, while also remaining the team's defensive coordinator. Ryan Taylor will remain the team's defensive line coach.
"This is what we needed to do on this defense," Christophel said. "Granville is more comfortable in the secondary and he'll be able to help (defensive back coach) Dainon (Sidney) as well. Shephard is a defensive guy and our linebackers will benefit from having him. Everywhere he's been, he has had an impact."
With more than 10 years as a Division I assistant coach, Shephard also is no stranger to the Governors' football program or Christophel. The two played together at Austin Peay under legendary coach Bill Dupes in 1971 – Christophel as a freshman and Shephard as a senior. Although their time together on the field was short, their history as fellow coaches is much more extensive.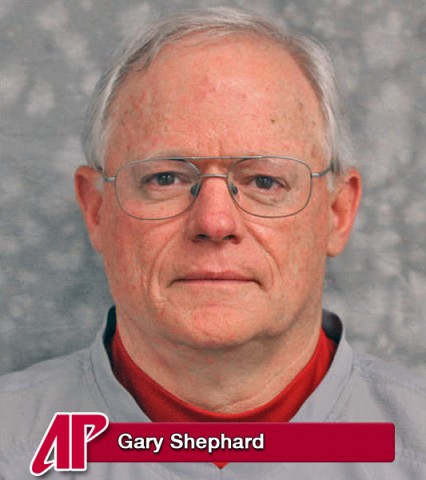 Shephard did his postgraduate work at Austin Peay and began his coaching career under then-head coach Watson Brown in 1979. After three years with the Govs, he became an assistant at Elon under Wright Anderson. That stint ultimately linked him back up with Brown and Christophel at Cincinnati in 1983.
From there, Shephard and Christophel spent the next six years assisting Brown – at Rice for two years, followed by a four-year run at Vanderbilt. Shephard, who was a tight end during his playing days, has primarily coached on the defensive side throughout his career, while also assisting with special teams.
One of the more intriguing aspects of Shephard's coaching career is his time spent in the trenches of Tennessee and Georgia high school football arenas. After his time at Vanderbilt, he began a high school coaching career that spanned more than 15 seasons. It started with two years at Jenkins High School, in Savannah, GA.
That led to an 11-year tenure as head coach Knoxville Halls High School where he posted an 80-54 record, made seven playoff appearances and led his team to the 1996 TSSAA AAA Championship game. His notoriety also led to his tenure as President of the Tennessee Football Coaches Association.
Shephard's high school run ended after six seasons at Clarksville Academy. The Cougars brought Shephard in to rebuild a struggling program and now, Shephard will rejoin, among others, former Clarksville Academy standout and current Govs linebacker Zac Burkhart.
"We're fortunate to get a guy with his experience," Christophel said. "He's been all over the place and had his hand in a lot of good programs. Being the president of the high school coaches association at one time also gives him connections with every high school coach in the state. He also knows his way around the Georgia high schools."
Shephard's addition replaces the position left vacant by running backs coach Josh Roberts, who resigned in the spring to pursue other educational opportunities.