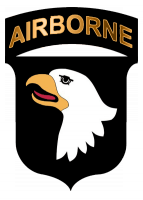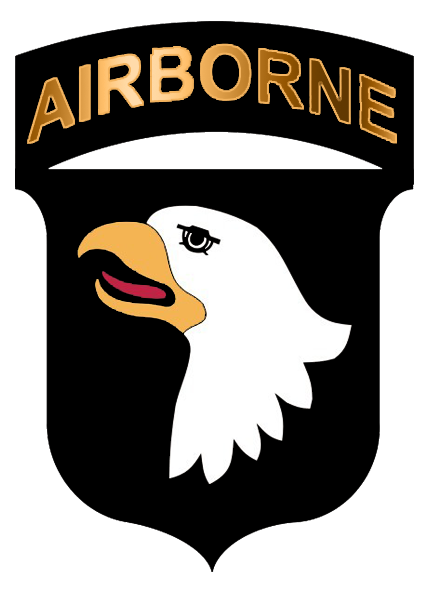 Fort Campbell, KY – The rainy weather that has been over Montgomery County late Thursday evening, broke for a bit early on Friday morning in time to allow 13 soldiers from 2nd Battalion, 44th Air Defense Artillery Regiment, and 138 soldiers from the 541st Transport Company to return home without getting a good soaking. The soldiers were returning from a tough year long deployment to Afghanistan.
Family and friends of the returning soldiers had gathered together to give their loved ones a proper welcome home. When we first arrived, the family members seemed subdued but as the time for the flight to arrive drew closer the crowd began to get excited.
15 minutes before the flight arrived the family members were allowed to proceed outdoors to wait on for a chance to see the flight bearing their loved ones arrive. Some family members got a head start as they began heading outside well before the official announcement.
Around 1:30am the plane touched down to a chorus of cheers.The soldiers rapidly disembarked from the aircraft and proceeded to march to a assembly point near the hangers to drop off their gear so they could visit with their families. As they approached the waiting families soldiers eyes sought out those special people who were there waiting on them. Nothing can melt the heart of a soldier and bring a smile to their faces faster than the first moment when a soldier sees their loved ones after returning from a deployment. The instant the soldiers emerged from the gloom, they began seeking out their loved ones.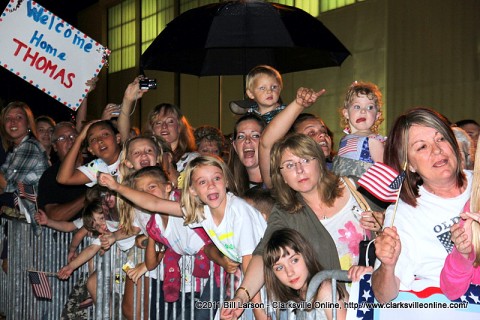 The soldiers had a duty to perform before they could be truly reunited. They had to drop off their gear so that it could be secured while they were visiting with their families. Then it was time for the soldiers to march into the hanger before the cheering crowd. After a short ceremony it was time for some quality family time. This was the first time many of these soldiers had seen their loved ones since early 2010.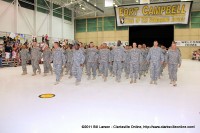 As soon as they were all assembled, the doors to the hanger were opened and the 151 soldiers marched in before the cheering crowd.
After the invocation which was given by Chaplin Medina. Brig. Gen. Jeffery N. Colt, the Deputy Commander of the 101st Airborne Division gave a few remarks.
"541st and 2-44 this one is for you. The welcome home (ceremony) is just a sliver of what you deserve. But what we want you to know is that your community and your country appreciate your service and the sacrifice you have made for all of us; with your professional example, the sacrifices you made, and the valor you have shown in executing your mission, you've made a difference. You should be proud of yourself, your service, and your country, we are proud of you."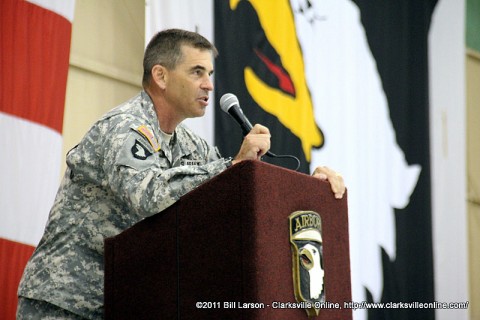 Colt then addressed the family members, "For all the family members that are here this evening I promise I will be brief. We couldn't do this without you, we thank you, we appreciate you, and we know you have done the heavy lifting."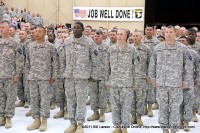 He closed his speech by asking the soldiers to continue to be there for one another, "For the guys in the formation here one last time. You've done a brilliant job taking care of each other the past year, continue to do so as you reintegrate and we get ready for our next rendezvous. We are so proud of you, god bless you, welcome home air assault!"
Then the band began to play the Army Song and the 101st Airborne Division Song.
Afterwards, the soldiers were given 15 minutes to be with their families.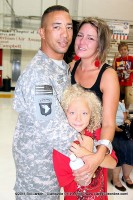 As the family members gathered together, leaping into one another's embraces, some gave hints of what the stress of the long absence of their loved one over the last year as uncontrollable sobs break out during their otherwise joyful reunion.
Specialist Harvey's mother was clearly proud of her son, as he returned from his first deployment. She spoke for all of the family members when she said, "I am so glad he is home, I'm so glad he is home."
If you are interested in attending a Welcome Home Ceremony, keep an eye on the flight schedule page on the Fort Campbell web site. Currently there are no flights scheduled however that can change at any time. If you would like to attend one, plan to arrive at least 2 hours early. Enter at Gate 7, and follow the signs. Hope to see you there!
Photo Gallery