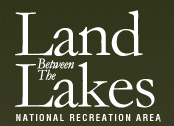 Golden Pond, KY – Land Between The Lakes NRA will be participating in a nationwide food drive through August. The overall goal is to collect 2 million pounds of food nationwide. U.S. Department of Agriculture agencies are trying to collect 500,000 pounds at their sites and offices. 
LBL will have collection boxes available at campgrounds, facilities, and administrative offices. If you are coming to recreate at LBL this summer, drop off a can of food at North or South Welcome Station, Golden Pond Visitor Center, Piney, Wranglers, Energy Lake, or Hillman Ferry Campground. Donations will go to help families make it through this summer, a period when local food banks are typically pretty low on donations.
We will be delivering LBL's collection to local food banks.  Their biggest needs are:  canned fruits (in light syrup or its own juices), 100% juice (all sizes including juice boxes), multigrain cereal (such as Cheerios, Corn Flakes, Grape Nuts, Raisin Bran), snacks ( individually packed snacks, crackers, trail mix, dried fruit, granola/cereal bars, pretzels, sandwich crackers), canned proteins (tuna, salmon, chicken, peanut butter, beans), canned vegetables (low sodium or no salt added), soups (beef stew, chili, chicken noodle, turkey rice, vegetable), grains (brown & white rice, oatmeal, pasta, macaroni & cheese), and condiments (tomato based sauces, light soy sauce, ketchup, mustard, salad dressing, oils).
Employees of the Forest Service, Swift & Staley, and "Friends of LBL" will also be participating with collection boxes in each office building.  "If every employee and every camper just brought one can of food," exclaimed campaign coordinator Lisa Neaman-Wilson, "that would feed a LOT of people! Other fun events to bring in the donations are being planned, but we are setting up collection sites right away."
About Land Between The Lakes
Land Between The Lakes is managed by the Forest Service, U.S. Department of Agriculture, in partnership with "Friends of LBL," to provide public lands outdoor recreation and environmental education. We encourage visitors to review our website at www.lbl.org each season, and throughout the season, for our Calendar of Events, updates on programs and policies, safety information, maps, and temporary trail and road closures. Additional LBL and "Friends of LBL" information is also available on our website or by calling 1-800-LBL-7077 or 270-924-2000.