Clarksville, TN – On June 23rd, 2011, around 1:30am, an officer on a traffic stop heard shots fired coming from apartments in the Cherry Bark Lane area.  He advised dispatchers and officers were sent to the area.
Officers were able determine that the shots were being fired from behind one of the apartment buildings. Officers located four men outside who had set up a tin can target range by a fence line and were firing handgun and shotgun rounds at the targets. The men quickly retreated inside of an apartment when officers arrived on scene.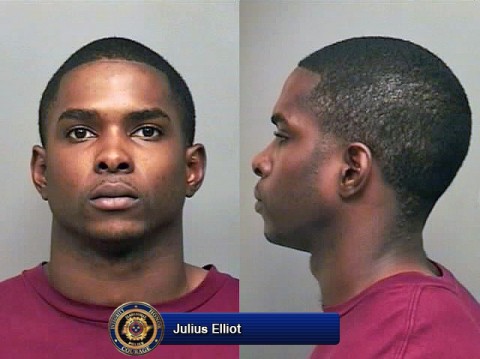 One of the men, Julius Anthony Elliot, opened the back door of an apartment holding a handgun, chambered a round, and pointed the gun in Officer Channing Bartel's direction. He was told to drop the gun, continued to point in the officer's direction, but retreated back inside. Officers were able to negotiate with the four men to voluntarily exit the apartment.
Once the men were outside, it was believed there was still someone inside of the apartment. The Tactical Team and a K-9 unit were called out to make sure the apartment had no other occupants inside. The residence was cleared and a 45 caliber handgun was located and seized from inside the apartment.
Julius Elliot
Name: Julius Anthony Elliot (B/M)
DOB: 11-27-87
Given Address: 772 Cherry Bark Lane, Clarksville, TN
Arresting Officer: Channing Bartel
Charged With: Aggravated Assault and Unlawful Carrying of a Deadly Weapon while Intoxicated
Booked Into: Montgomery County Jail
Bond: $60,000.