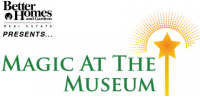 Clarksville, TN – Magic at the Museum returns to the Customs House Museum on Saturday, June 25th with pre-show activities beginning at 6:30pm with a wine and cheese reception. The main stage show starts at 8:00pm. After a very successful first event that was geared towards children, this "Magic" event will appeal more to an adult audience. Come out for an amazing night of magic, music and comedy.
"Magic at the Museum is an event that is unique to Clarksville," said Bonehead Promotions president Hank Bonecutter. This Magic at the Museum show will serve as a fundraiser for Project F.U.E.L; it will also benefit the Customs House Museum. The Customs House Museum is such a remarkable facility; supported by the generosity of patrons in the community who have helped to preserve the rich history of Clarksville, TN. "The Customs House Museum has such great venue with a theatre that is one of the best kept secrets in our community."
Project F.U.E.L.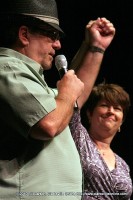 Project F.U.E.L. (Full of Emmaus Love) feeds hungry children in the Clarksville/Montgomery County school system. "Over twelve hundred school children leave school on Friday, and don't have a solid meal again until they return to school on Monday", said Bonecutter, "This is embarrassing and unacceptable".
The program is the life's mission of Denise Skidmore, who was led to this effort by her Christian faith. "I was searching for a purpose in my life, wondering what would be my footprint if I were to die today" she said, "I want to feed every child I can. I won't stop until they are all taken care of". These children are selected by the schools, not based on their social status or family income, but on the signs of hunger.
Rossview High School joined the F.U.E.L. Program in November 2010, and the students put together a video  talking about the program.
Pre-show Activities
The Wine and cheese reception will feature "close up" magic from talented local magicians Russ Nowack, and Wallace Redd.
Russ Nowack owns Hocus Pocus Entertainment. His interest in magic began at a very early age. He started performing full time in his late teens and has literally thousands of performances under his belt; and over 20 years in the business of Magic.
Wallace Redd blends of magic, storytelling and humor in way that has earned him several awards, including 1st place at the Battle of the Wizards Competition in 2007.
The Main Event
Christy Eidson
The stage show will begin at 8:00pm and open with Nashville comedian Christy Eidson at 8:00pm. She specializes in Southern fried humor, with a pinch of sass and a hilarious dose of attitude. Edison creates colorfully visual stories from her distinct southern point-of-view. She is a strong female comedian, in much the same vain as Lucy, Carol, and Gilda, but doesn't like to be labeled just a "female comic", because she can hold her own with the boys. Some describe her as "Roseanne Barr meets Jack Black" or "the Crazy red-haired girl". On stage, she comes across extremely likeable and confident, yet unpredictable. She touches her audiences…literally, so watch out boys! She is highly energetic, charismatic, and has strong comedic timing. With this combination, she quickly grabs the audience's attention and doesn't let it go until she's walking off the stage. Her shows are more like rock concerts than comedy shows.
Edison produces and performs in "Girl on Girl Comedy", a comedy series featuring all female and/or GLBT performers. She will be emceeing 2011 Nashville Pride Festival. If that weren't enough, Christy also produces, writes, and performs in the sketch comedy troupes: TV Dinner Theater and Waterbed in a FallOut Shelter. She also co-wrote and co-stars in the Redneck Comedy Tour, which is one of Nashville's most popular tourist attractions.
In 2008, Christy Eidson appeared on Last Comic Standing and Nashville Star on NBC. She has performed in such places as the Improv, the Comedy Store, and the Laugh Factory in Los Angeles, HA's in New York City, Zanies in Nashville, TN, Sidesplitters in Knoxville, TN, the Comedy Catch in Chattanooga, TN, the Punchline and the Funny Farm in Atlanta, GA, and many more. She showcased at the 2007 Las Vegas Comedy Festival, and was a Finalist for the 2008 California's Funniest Female Contest. She studied with the legendary Groundlings in Los Angeles.
Christy is a Nashville, Tennessee native. She has always wanted to entertain, even if it was only entertaining herself. As a child, she was in love with Saturday Night Live, and would sneak out of bed to stay up and watch the show. In school, teachers would make her stand up in class and do her impressions or read humorous stories she had written. In college, Christy studied Broadcasting and double-minored in Theatre and English. In her "book-learnin" years, she and her friends began attending the Rocky Horror Picture Show each weekend just outside of Nashville, and soon began playing the Susan Sarandon role of Janet Weiss. Performing in your underwear will definitely diminish any fears or inhibitions one may have. Her comic influences come from a broad spectrum of comedians that include Bill Murray, Eddie Murphy, Lucille Ball, Mike Myers, Will Ferrell, Roseanne Barr, Jack Black, Jim Carrey, and the Three Stooges.
No one can say that Christy doesn't enjoy being the center of attention. You can't spend ten minutes with her without cracking a smile. "It's either laugh or cry, and I don't like to cry…it makes my eyes puffy."
Big Daddy Cool, Johnny DeLarocca and his Swing Kittens
The headliner for the evening will be Big Daddy Cool, Johnny DeLarocca and his Swing Kittens!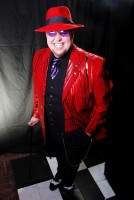 "Big Daddy Cool" Johnny Dellarocca (John B. Pyka) is a larger-than-life, over-the-top ex-gangster turned entertainer who specializes in providing larger than life entertainment for grown-up audiences! He is a 3 Time Champion of Magic, 2 Time Entertainer of the Year, 2 Time Variety Artist of the Year. As an entertainer John has appeared all over the country performing for millions of people in nearly every venue imaginable; from singing at Carnegie Hall, to performing magic on the BBC documentary The Convention Crasher, to appearing as "Big Daddy Cool" in the Off-Broadway production of Swingin' At The Roxy. John has performed in some of the best restaurants and nightclubs in the country, including the Improv, The Laugh Factory, Zanies, Bamboozles, and Saratoga Spring's premiere nightspot, Gaffiney's. In addition, he has performed for numerous corporate clients, including Shell Oil, Habitat for Humanity, Dollar General, Symantec, Chrysler, and the Amway Corporation.
The zoot-suited swing hipster "Big Daddy Cool" Johnny Dellarocca is played by John B. Pyka who has set himself apart as an entertainer with his unique fusion of music, magic, and theater to create unforgettable, characters who do amazing and impossible things. His Fabulous show blends smokin' swing music, amazing magic & illusion and authentic swing dance! Pyka is recognized by his peers as one of the top entertainers worldwide, and after you see him perform, you'll know why!
The Swing Kittens are the classic magicians assistants, and they bring another layer of style and elegeance to his performance.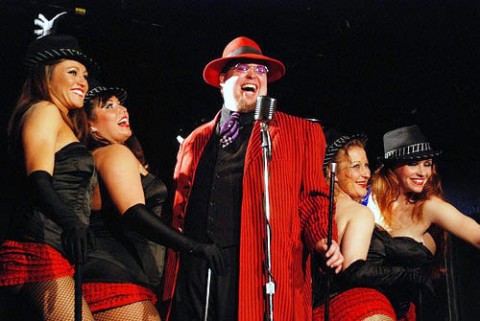 He is the creator and producer of popular variety shows like The Magic Cabaret, Opry Mills Olde Time Family Theater (with The Radio City Rockettes), The Opry Mills Holiday Family Theater and Music City Magic! Pyka is also a published author, having written two books on the subject of magic – Theatrical Magic published by Leaping Lizards and How To Produce Your Own Theater Show published by Lybrary.com.
Partners

The evening is being made possible with the generous assistance of Maurice Vaughn and his company Better Homes and Garden Real Estate Hometown Connection; along with media sponsors including WJZM 1400 AM, Clarksville Online, Discover Clarksville, and Ad One Advertising.
Tickets for the evening are available for a $30 donation, and are available at the Customs House Museum, Better Homes and Garden Hometown Connection real estate, and online at www.magicatthemuseum.com. The price also covers a free tour of the museum. Magic at the Museum" brings some of the best magicians in the country to Clarksville to create an exciting night of entertainment and to raise money for local charity". We hope to see you there!
For more information on the Project F.U.E.L. Ministry, contact Denise Skidmore, President and Founder at (931) 624-3181, or email skidmore.denise@yahoo.com.
Map
Poster