Coy Lacy Park is a great place for a morning walk, and my friend Alicia and I walk there often. The paved walking track is about a quarter of a mile around, and for those of us who sometimes have our minds on other things, counting each time you past a post at the entrance makes keeping up with your walking distances easy.
I've been told that you shouldn't walk so fast that you lose breath and can't talk, but I don't think there's any danger of me walking that fast.  It's such a nice morning stroll and each morning there's something new to see. Sometimes it's George and Jennie Craig, native Clarksvillians, just striding along –sometimes you can even see them holding hands.  George says they walk "'most every day".
Occasionally you need to move over for runners who also like to make a round or two on their morning run around the neighborhood, or you can stop to pet a friendly dog or two.  We always ask permission of their owners before approaching , but most owners are glad to have a break for a minute while someone admires their pets.  Dog owners at Coy Lacy are very courteous and MOST carry plastic "clean-up" bags  to keep the track and grounds clean , for the park  also contains a ball field and a children's playground, as well as picnic tables and a restroom facility.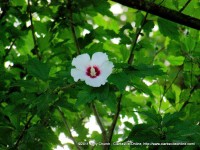 During last year's flood, the park was completely submerged, but has had a good recovery.  The playground equipment looks fresh and refurbished, and the trees and grass are green and lush. The track could use some repaving, but is quite usable until some park-improvement monies become available.
For those of us who sometimes need a break, there are many benches in shady spots to rest or read in a quiet moment. Squirrels play (and steal a nearby gardeners' green tomatoes), and birds chirp and peck at leftover crumbs.   It's not a very big park, but it's a nice start for the rest of a busy day.
Photo Gallery
About Jerry Church
Jerry Church is a native Clarksvillian. She graduated from Clarksville High School, and attended Austin Peay State University where she received Bachelor degrees in Arts and Crafts, and Speech Communication and Theatre; and a Masters degree in Psychology. Jerry retired from the State of Tennessee serving the people of Tennessee as a Vocational Rehabilitation Counselor. She is married to Clyde Church and they reside in Clarksville, TN. Her hobbies include quilting, embroidery, basketry, gardening, and reading. Together Jerry and Clyde also enjoy fishing and photography.
Sections
Arts and Leisure
Topics
Clarksville Department of Parks and Recreation, Coy Lacy Park