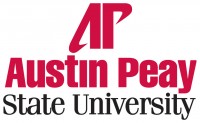 Clarksville, TN – If you received the newest issue of Food Network Magazine, you might have noticed Austin Peay State University's logo in the back of the magazine, asking readers to match the celebrity chef to the school he or she attended.
For APSU, the chef is Patrick Neely, one-half of Food Network's "Down Home with the Neelys" series. Neely, who shares the show's spotlight with his high school sweetheart and wife Gina, attended APSU in 1984 during the winter and spring terms.
For its September-October edition, the magazine plans to have a story about tailgating foods, with each chef's school noted, according to the preview.
In addition to their TV show, the Neelys are co-owners of Neely's Bar-B-Que in Memphis, one of the most successful barbecue restaurants in the South. There are two locations in Memphis and one in Nashville. Neely's Bar-B-Que was awarded the 2007 Business of the Year by Memphis MED-Week (Minority Enterprise Development) and a Blue Ribbon Small Business by the U.S. Chamber of Commerce in Washington, D.C.
On the show, they share the secrets behind their favorite dishes and their passion for food, family and fun. After its February 2008 premiere, "Down Home with the Neelys" became the highest-rated series debut in the five-year history of Food Network's "In the Kitchen" weekend block and continues to be a top ratings performer.
In May 2009, the Neelys released their first cookbook, "Down Home with the Neelys," quickly earning a place on The New York Times best-seller list. Their second book, "The Neelys Celebration Cookbook: Down Home Meals for Every Occasion," is due out in November 2011.
The couple also opened their first New York City restaurant in May 2011, Neelys BBQ Parlor.
According to the Food Network's website, Patrick Neely began working in the restaurant business at the age of 15, learning the art of barbecue from his uncle Jim Neely. In February 1988, Neely and his three brothers – Gaelin, Tony and Mark – opened their first restaurant in downtown Memphis with just a few tables and chairs, one barbecue pit and $20,000 borrowed from their grandmother.
Patrick Neely is a board member of the Memphis Regional Chamber of Commerce, a member of the Shelby Farms Conservancy Board and the immediate past chairman of board for the Memphis Convention and Visitors Bureau. In 2007, he was named Restaurateur of the Year by the Memphis Restaurant Association.