Former Lady Govs basketball great Armistead returning to program as Assistant Coach
APSU Sports: Women's Basketball

Clarksville, TN – The greatest player in Austin Peay State University women's basketball history is returning to her alma mater as an assistant coach.
Brooke Armistead, the Lady Govs' all-time scoring leader who later had her jersey number retired, has been hired as an assistant women's basketball coach by APSU head coach Carrie Daniels.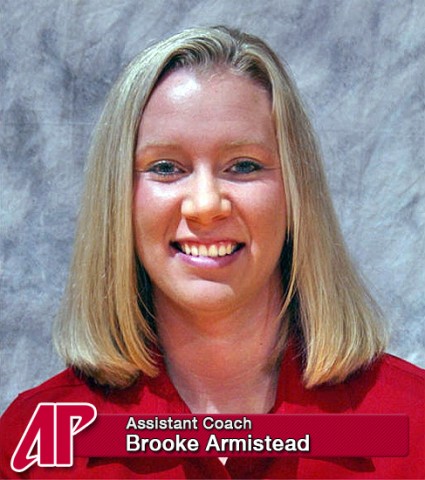 Armistead, who has worked for the state's Department of Child Services and in the insurance business since graduating in 2004, is returning to her real passion—basketball, a sport she was so successful playing that her Lady Govs jersey number 10 was retired in 2004—the first female in APSU athletics history to be accorded such an honor—and led to her being inducted into the APSU Athletics Hall of Fame in 2009. 
"I started thinking about this (getting back into coaching) about a year ago," Armistead said. "I liked my (insurance) job, but I didn't want to look back years from now, regretting that I didn't pursue this. And this opportunity came up and it couldn't have worked out any better. It just feels right. I am thankful to Coach (Carrie) Daniels for giving me this opportunity."
"My staff and I are ecstatic to be welcoming Brooke to our family," said Daniels, APSU's sixth-year head coach. "I think it speaks volumes anytime you have an alumna and former player who you have the opportunity to bring back into the program.  As the head coach it makes me extremely proud.  You know Austin Peay has made a lasting impression on their life and now it's time to do that with the current student-athletes.
"Along with myself being a former Lady Gov, Brooke will join Jessica Grayson who played alongside Brooke for a season. Not only did we play at Austin Peay but all three of us were fortunate to win championships as well.
"Brooke is the most decorated player to come out of the Lady Govs program and there is no doubt our players will benefit tremendously from her experiences and knowledge of the game."
Armistead certainly knows she will be on the fast track as far as getting reacquainted to the college game from a coaching standpoint.
"I believe my experience and success at both Austin Peay and the OVC will allow me to relate well with the student-athletes both on the floor and in the classroom." Armistead said. "I know I have a lot to learn from Coach Daniels. I know I will have to get used to the recruiting aspect of it, but no matter what I have ever attempted to do (in the past), I wanted to be successful, I always strived to be the best."
This is not Armistead's first foray into coaching. She served as Lady Govs graduate assistant in 2004-05 when Austin Peay captured its fourth-straight OVC tournament championship.
Armistead left Austin Peay as the Lady Govs all-time leading scorer—second all-time in OVC history—while leading the Lady Govs to three-straight OVC tourney titles and NCAA tourney appearances. She was named first-team All-OVC for three straight years and earned OVC All-Tournament all four seasons.
As a senior, the Elmwood native averaged an OVC-leading 18.9 ppg to help lead the Lady Govs to a 27-4 record, including a league record 22 straight victories, and an unprecedented 16-0 conference mark. In the process, she was named OVC "Player of the Year" and OVC tournament MVP, the second time she earned the award. She scored 30 points against North Carolina in the Lady Govs heartbreaking NCAA tourney loss.
In 2002-03, Armistead became the only OVC athlete in history to be named both the league's "Female Athlete of the Year" and Steve Hamilton Award recipient in the same year. The Hamilton award annually is presented to an OVC male or female student-athlete who best exemplifies the characteristics of the late Morehead State student-athlete, coach and administrator Steve Hamilton.
She also earned APSU's Joy Award as the most valuable senior female athlete while also being selected "Most Outstanding Female Athlete" as a senior.
Armistead finished her career with 2,508 points, and probably would have broken the OVC scoring record (2,526) if a head injury hadn't forced her to miss three games during her senior season. She ended as the NCAA's 29th all-time scoring leader and left as APSU's career leader in scoring, field goals, field goals attempted, free throws, free throws attempted and free-throw percentage.
Armistead graduated from Austin Peay as part of the most successful women's basketball class. Along with fellow senior Paige Smith, she was a part of a school-record 78 career wins, bettering by 15 wins the previous mark.
After earning OVC "Freshman of the Year" in 1999-2000, Armistead was named to three consecutive first-team All-OVC squads. Along the way, she also was named all-tournament in all 10 tournaments (regular season and postseason) that named all-tournament squads, including four straight OVC all-tourney teams.
In addition to leaving as APSU's all-time leading scorer–and the school's overall all-time leading scorer, Armistead also owns the career mark for career scoring average (20.9 ppg).
In Spring 2003, Armistead also became the first OVC player to be drafted by the WNBA.
Armistead replaces Laphelia Doss on the Lady Govs staff. She joins second-year assistant coaches Grayson and David Midlick. The Lady Govs finished the 2010-11 season with a 15-18 record, 12-6 in the OVC. They advanced to the OVC tourney semifinals a year ago after winning the conference tourney the previous two seasons.
"As the head coach to look at this staff I get goose bumps," Daniels said. "David and Jessica are such go-getters that make so much happen. I've been so pleased this past year with the addition of them and Brooke is a great final piece of the puzzle."