Clarksville, TN – Sometime in the overnight hours, between July 6th-7th, the Walgreens at 1751 Tiny Town Road was broken into.  When the Walgreens manager came into work on July 7th around 6:40am, he found the alarm was not set and the pharmacy glass door was broken.
The suspect had taken thousands of tablets of different drugs, valued at over $2,000 and left the scene. Further investigation determined the suspect had made entry into the business by ramming a vehicle against a back door which lead into the stock room. Detectives arrived on scene and began their investigation.
While Detectives were processing the scene at Walgreens, they received a call to a trailer at Kettering Court where a woman had discovered several bottles of prescription drugs in the crawl space of her trailer. They had been put there by her husband, Phillip Anthony Conifer.

The drugs were recovered and determined to be the same ones taken from the Walgreens burglary. There was also clothing recovered from the scene which matched the clothing worn by the suspect in the surveillance video.
Phillip Conifer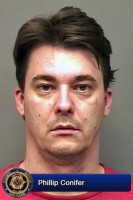 Name: Phillip Anthony Conifer (W/M)
DOB: 1/30/76
Given Address: 270 Kettering Court, Clarksville, TN
Arresting Officer: David Mann
Charged With: Burglary
Booked Into: Montgomery County Jail
Bond: $25,000.
The lead investigator is Detective Kevin Rushing, 931.645.8477.
Sections
News
Topics
Bond, burglary, Clarksville Police Department, Clarksville TN, CPD, David Mann, Drugs, Kettering Court, Kevin Rushing, Montgomery County jail, Pharmacy, Phillip Anthony Conifer, Tiny Town Road, Walgreens