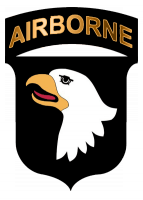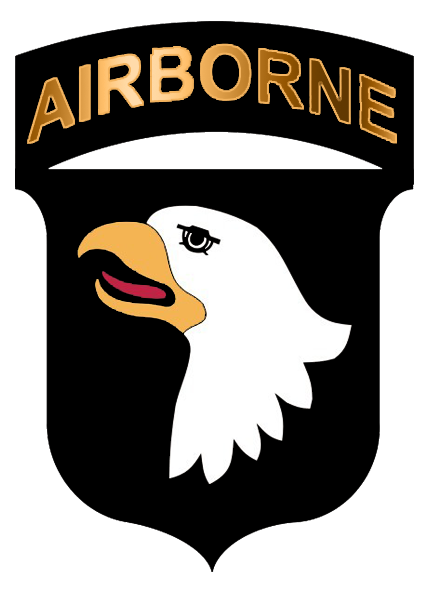 Fort Campbell, KY – On Saturday, July 9th, 81 members of the 4th Brigade Combat Team returned to Campbell Army Airfield.
Family and friends gathered to welcome home their soldiers. As the announcement was made that the plane was on 15 minutes away, many made their way out to the tarmac to watch the plane as it arrived.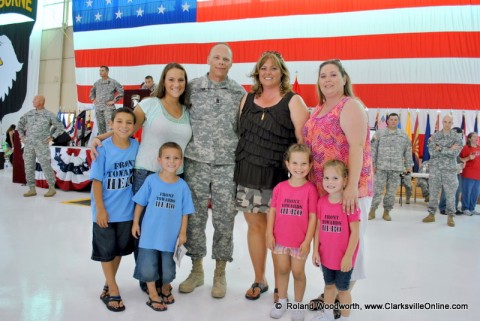 Lanette Foster and her family were very excited for the arrival of Sergeant Major Noel Foster to return. The kids all had on matching shirts the read Front Towards HERO.
Everyone in the hanger was so excited that the year long deployment has come to an end for their loved ones as they made their way home to make preperations for the rest of the Brigade to return to Fort Campbell.
Once inside Hanger 3, Brigadier General Jeffrey N. Colt welcomed everyone home in a short speech to the soldiers.  Afterwards everyone was allowed 15 minutes of family time before heading back to their unit to turn in their gear.
Once released for a short reunion, family members scrambled across the hanger floor as they searched for their soldiers. Time seemed to go by fast as the announcement for all family members to return to the bleachers and soldiers to make their way back into formation.
If you wish to attend a Welcome Home Ceremony, check the flight schedules online, as times are subject to change at anytime. When arriving to Fort Campbell, enter via Gate 7; if you don't have installation stickers on your vehicle, you will be required to get a visitor pass. From there just follow the signs to the ceremony parking. Waiting buses transport family members safely to the hanger.
Video
Photo Gallery