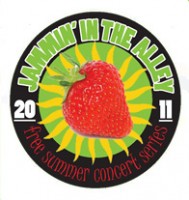 Clarksville, TN – On Friday, July 15th, the Clarksville Downtown Market will hold its first-ever "Night Market" in conjunction with the City of Clarksville and U.S. Bank's popular summer concert series Jammin' in the Alley.
More than a dozen vendors from Clarksville's weekly Downtown Market will be set up along Strawberry Alley from 5:00pm to 8:00pm selling a variety of homegrown and homemade items.
"I am very excited to offer a taste of the Downtown Market to the patrons of Jammin in the Alley," said Market Manager Matt Nixon. "This venue allows us to reach a broader crowd that may not be able to make it to the market on Saturday mornings. It allows for the public to get a sample of what the Clarksville Downtown Market is and to encourage them to come to Public Square for a visit every Saturday from 8:00am to 1:00pm, now through October."
This month's free concert will begin at its regularly scheduled time of 7:00pm and features the local band and Clarksville favorite, Mc'Allister's Crossroads. With members coming from different musical backgrounds, be ready to dance because they enjoy nothing more than rocking out to some classic rock or getting down with a little bit of funk.
In addition to the live music and market vendors, downtown restaurants will offer outdoor dining for Jammin' in the Alley and night market patrons.
Strawberry Alley will be closed to through traffic starting at 1:00pm on the day of the event. Starting at 3:00pm, the lower employee parking lot of City Hall will be closed. However, drive-throughs for U.S. Bank and Regions Bank will be accessible, as well as the upper City Hall parking lot.
For more details on Jammin' in the Alley and the Clarksville Downtown Market, please contact the Clarksville Parks and Recreation at 931.645.7476 or visit www.parksafterdark.com.