This is the first of a series of articles about the Seventh Annual Writers' Conference held at Austin Peay University on July 14th-15th, 2011.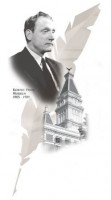 Clarksville, TN – Presented by Clarksville Arts & Heritage Development Council with a grant from Tennessee Arts Commission, the Clarksville Writer's Conference was held in last week in Austin Peay State University's Morgan University Center. The Conference drew people from all over the United States for a wonderful banquet, along with two days of book readings and writing workshops.
Writing is not a job or a hobby or a profession. Writing is a compulsion. People who are writers write because they must. It is usually the way they process the world around them and if they don't write, they feel like they are not living, only existing.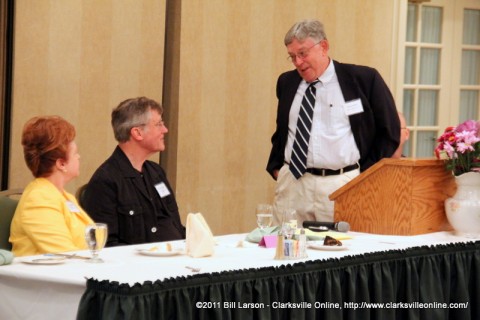 When writers go to a writers' conference, for once in their daily activities, they connect with other people who have the same compulsion and who understand what it truly means to be a writer.
Not all writers work the same way or at the same time of day or start out the same way or believe their methods are universal. When writers come together, they trade secrets openly because unless it works for you, it's not valid anywhere—no matter if it gained the Pulitzer for someone else.
Clarksville Writers' Conference was in its seventh year this July. For once, some of the same writers from last year spoke again. Rather than being a source of boredom for participants who were at the conference last year, it was a source of reaffirmation and connection with ideas, concepts and personalities that were familiar.
William Gay, for example, has just published his third novel, TWILIGHT. To hear this superb author read from his new book is beyond serendipitous. William Gay is being called the William Faulkner of Tennessee for good reason. His truth is searing through carefully crafted words that mirror the voices he has known in the South. To hear two men, one an undertaker and the other a criminal, discuss murder for hire is to know that you are in the room with those two individuals.
Rheta Grimsley Johnson, former columnist whose work appears in 150 newspapers each week and a former finalist for the Pulitzer Prize for commentary, is one of the Southern voices you most want to hear. She is the kind of writer who can have you laughing one minute and being moved to tears in the next. She is as apt to make fun of her own experiences as to paint the human drama she has found in the everyday lives of people she has met throughout her years as a journalist. She is the biographer of Charles Schultz and is as adept at telling of her experiences with him as she is in describing the undertaker who digs the graves in Paris, Tennessee. When you have been fortunate to hear her speak, you come away wishing she were your next door neighbor and feel that you have known her kind and loving spirit for most of your life.
This year's keynote speaker for Thursday's events, Amy Greene, has experienced the almost unbelievable. Her first novel was sold within a week of her agent's sending it to ten major publishers. Many people write for thirty years before having a major breakthrough in print. BLOODROOT was not one of those novels. Greene's true voices of East Tennessee and the mountains grabbed even the ears of the tough New York editors on a first hearing. When she tells you about her process of writing, you know you're in the presence of a writer who truly has much to say.
William R. Ferris, co-editor of the massive ENCYCLOPEDIA OF SOUTHERN CULTURE that was nominated also for a Pulitzer Prize, was the keynote speaker for the Conference Banquet this year. Friend from childhood of Eudora Welty and an adoptee when at Yale by Robert Penn Warren, Ferris is an expert on folklore, the blues and the South in general. He draws you into the lives of the sharecroppers and blues singers who lived in the shacks of Mississippi as easily as he does to the dining table of Robert Penn Warren and into his classrooms at the University of North Carolina at Chapel Hill where he now teaches. He enchanted his audience with music, pictures and stories of blues singers culminating with a visit by B. B. King to Yale.
David James Poissant, who introduces himself as "Jamie," looks so young that you can hardly believe he is old enough to be on the faculty of the University of Central Florida in Orlando. When he begins to teach you about the way a short story works, you have no doubts that major magazines like The Atlantic were correct in running his stories and prizes like the Playboy College Fiction Contest justifiably belong to him. Poissant goes into a story like a chef describing the ingredients and how they fit together. Amazingly enough, where Greene will tell you to begin with character in plotting your story, Poissant will tell you that character is the last objective in your decision-making.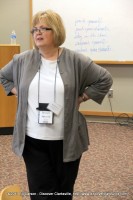 That's one of the reasons attending a writing conference is critical in a writer's development. You hear every theory about how to go about writing, but it boils down to something Darnell Arnoult emphasizes, "All a writer needs are food and a pen." Named Tennessee Writer of the Year in 2007 by the Tennessee Writes Alliance, Arnoult is both a poet and a novelist. She keeps extensive notebooks that end up providing full blown characters at times when she writes. She claims that writing comes from the subconscious and that everything we are processing affects what we write.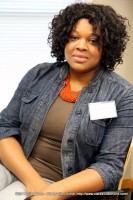 Stephanie Pruitt, the keynote speaker for Friday's agenda, is a poet who is a faculty member at Vanderbilt University and is Poet-in-Residence at the Curb Center for Art, Enterprise and Public Policy. She shares her poetry both in published form and in progress. Described as "high art with a hearty dose of biscuit-sopping goodness," her poetry may range from a wish to include her daughter in one of her books to a litany of sounds that are repeated numerous times to a line she sings to her audience. For poets, she is an inspiration to explore the unknown and catch language like a firefly illuminates the darkness.
Tom Franklin, winner of the 2010 L. A. Times Award for the Best Mystery for CROOKED LETTER, CROOKED LETTER, is a writer who can come off a grueling three-week promotions tour for his book and ride with his poet wife Beth Ann Fennelly and their three children (one of whom is only six months old!) in a minivan from Mississippi and give a superb lecture without benefit of even a brief stop at his hotel. Franklin's background as he grew up in Alabama serves as a backdrop for this latest novel where boyhood friends who became estranged are now pitted in a riveting scenario where one is the sheriff and the other is a suspected murderer. Tom, by the way, has the distinction of not only having been the John and Renee Grisham Writer-in-Residence at Ole Miss and the Tennessee Williams Writer-in-Residence at Sewanee but is a former heavy machinery operator and clerk in a hospital mortuary. He teaches you that you have to have to have experienced life to be a writer.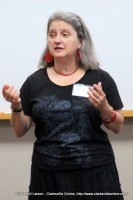 Meredith Sue Willis, who now lives in New Jersey and is a member of the creative writing faculty at New York University's School of Continuing and Professional Studies, talks about connections. Her book, 10 STRATEGIES TO WRITE A NOVEL, was the basis for her description of some of the obstacles facing writers today. She reminded conference attendees that in Chaucer's day, his work probably was read by a few thousand people at the most. Today J. K. Rowling's Harry Potter series is read by multimillions. Nevertheless, being a writer and being a published writer are two different things. Just because your work has not yet reached an outlet for others to view does not mean that you are not a writer—just not yet a published writer. A writer must write.
Also presenting this year were author Sarah Blackman, Poet Beth Ann Fennelly, Author John Pursley III, Author Chuck Sambuchino; along with Austin Peay State University's own literary stars Professors Amy Wright, and Blas Falconer.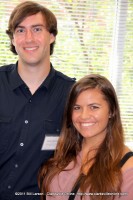 Literary Agents were on hand providing advice to the attendees included Lindsey Clemons from Larsen Pomada Literary Agents out of San Francisco, CA; and Gordon Warnock from Andrea Hurst & Associates Literary Management out of Sacramento, CA.
The two days of the writers' conference in Clarksville are filled with intellectual stimulation every minute. The most difficult part of one's experience is choosing which of the three writers who are speaking in different rooms at the same time you will hear.
The authors highlighted in this article were  only a few of the speakers at this year's conference,  but are ones I was personally able to enjoy. This series of articles will introduce them and others that I get to view on DVD in depth to help you see why your own life can be enriched by exposure to this local event that is open to anyone who loves to write.
Inspiration, education and communication don't begin to describe the range of experiences during a writers' conference. Friendships are made that take on a life of their own. Imaginations are stimulated and creative writing occurs that would never have been the stuff of dreams. The Seventh Annual Clarksville Writers' Conference is now history, hopefully immortalized within these musings, but now is the time to get ready and to look forward to next year's event scheduled for June 7th and 8th in 2012.
Put those dates on your calendar and plan to attend. You don't have to be a writer to be part of this special time. As one very faithful attendee, Mary Nell Wooten, who happened to be chair of the board for the Clarksville Arts & Heritage Development Council, describes her never missing the lectures, "I'm a reader!"
The articles following this one will examine one writer at a time to glean the insight each had to share.