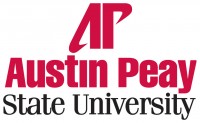 Clarksville, TN – An Austin Peay State University student recently was presented the Association of the United States Army (AUSA) Leadership Excellence Award at the U.S. Army's Leader Development and Assessment Course at Joint Base Lewis-McChord, WA.
Marcos Gutierrez, of Pasadena, Texas, was ranked No. 1 among 469 Army cadets for the 5th Regiment at the 29-day Leader Development and Assessment Course, also known as Operation Warrior Forge, the capstone training and assessment exercise for the Army Reserve Officers' Training Corps (ROTC).
Cadets at Warrior Forge are tested on their physical stamina, endurance, ability to navigate over difficult terrain, and their team-building and leadership skills. An Army saber to signify the award was presented to Gutierrez at a graduation ceremony July 19th.
Thousands of college students from around the globe converge at Joint Base Lewis-McChord each summer to attend the course. Successful completion of this rigorous training is required for commission as a U.S. Army lieutenant.
This summer, from June to August, 6,900-plus Army ROTC cadets from more than 1,100 colleges and universities will attend Operation Warrior Forge.
To learn more about the ROTC program at APSU, contact the APSU Department of Military Science and Leadership, 931.221.6156.