Written by U.S. Army Spc. Kimberly K. Menzies
Task Force Currahee Public Affairs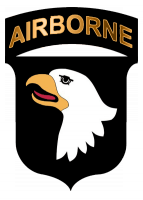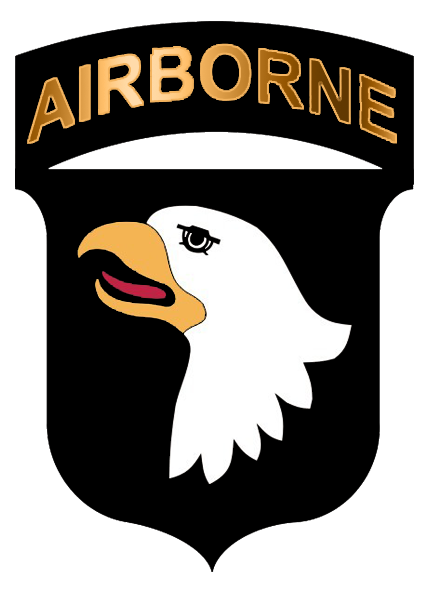 Paktika Province, Afghanistan – Key Afghan National Security Forces and provincial leadership and staff members from Task Force Currahee, 506th Infantry Regiment, 4th Brigade Combat Team, 101st Airborne Division, celebrated Currahee's 69th birthday with a dinner, July 20th at Forward Operating Base Sharana in the Paktika Province, Afghanistan.
"We were able to share a delicious meal and good fellowship with our Afghan counterparts," said U.S. Army Maj. Edward Brady, the brigade executive officer from 4th BCT, 101st Airborne Div., Task Force Currahee, and native of Las Cruces, NM. "It was fitting to be celebrating the birth of our unit with our Afghan partners who are in certain aspects at the beginning of building their legacy."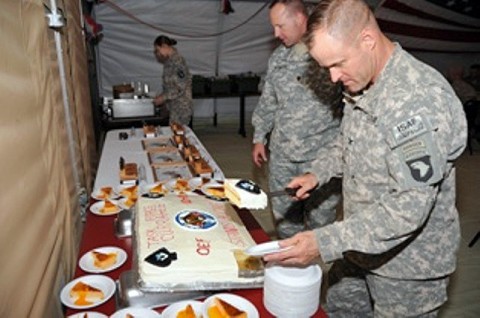 "It was a unique opportunity for us to include our Afghan brothers in the celebration and to share this special day for Currahees, at an event that was not about one person but about a whole mission," said U.S. Army Command Sgt. Maj. William R. Hambrick, Jr., the brigade command sergeant major and native of Cincinnati, OH.
The 506th Infantry Regiment, with a historic lineage beginning during World War II and commonly recognized from the Emmy award-winning HBO miniseries "Band of Brothers", was constituted July 20th, 1942 at Camp Toccoa, GA.
During World War II while in Sell Am See, Austria, it is reported that Currahees celebrated the unit's third birthday with only the best of Adolf Hitler's wine.
Last year during the unit's birthday, Currahee's celebrated their history while they were beginning to depart for their year-long deployment to Afghanistan.
Now nearing the end of that deployment, Currahee leaders utilized this opportunity to fellowship with their ANSF counterparts during the birthday celebration and to recognize the sacrifices made during the deployment.
"It was a bittersweet moment to see the culmination of the friendships that have grown with our counterparts over the past year," said Brady.
"Watching as your commander shares memories with his Afghan counterpart is only a small sign of the legacy Currahees fostered here in Afghanstan."