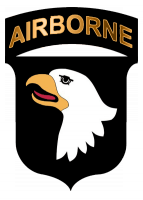 Fort Campbell, KY – Early Sunday morning just before 2:00am the airplane carrying 270 soldiers from the 4th Brigade Combat Team landed safely at Campbell Army Airfield.  Not even the wee early morning hours would keep friends and family including the children away.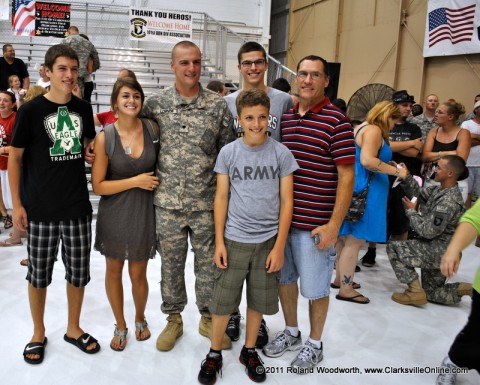 As the announcement was made that the plane was on 15 minutes away, several families made their way just outside Hanger 3 to watch the plane as it arrived. There were signs, posters and banners and cheers of joy as soldiers made their way toward the hanger.
Once inside Hanger 3, Brigadier General Jeffrey N. Colt welcomed everyone home in a short speech to the soldiers.  Afterwards everyone was allowed 15 minutes of family time before heading back to their unit to turn in their gear.
As the soldiers were released for a short reunion, family members scrambled across the hanger floor as they searched for their soldiers. Time passed quickly as the announcement was made for all family members to return to the bleachers and soldiers to make their way back into formation.
Natalie Snyder was super excited to see he boyfriend SPC Jonathan Lounds. She was there with his father Greg and Jonathans three brothers, Josh, Kyle and Christopher. Jonathan said he was just happy to be home and plans to take it day by day.
SGT Colten Nixon was also greeted by his wife Lisa Lombards and daughter Emma and family friends Roxanne and Randi Leclair.  Nixon and his wife are planing a trip home to South Dakota to visit and spend time with family.
If you wish to attend a Welcome Home Ceremony, check the flight schedules online, as times are subject to change at anytime. When arriving to Fort Campbell, enter via Gate 7; if you don't have installation stickers on your vehicle, you will be required to get a visitor pass. From there just follow the signs to the ceremony parking. Waiting buses transport family members safely to the hanger.
Photo Gallery