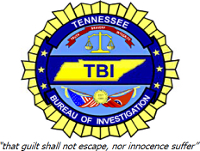 Nashville, TN – The Tennessee Bureau of Investigation captured its latest addition to the state's Top Ten Most Wanted list one day after he was put on the fugitive list, thanks to a tip to authorities.
The tipster worked with TBI to get Christopher Andre Hancock, 29, to turn himself into a TBI Special Agent Saturday in Wilson County. TBI added Hancock to the Top Ten Most Wanted list Friday afternoon after he was wanted by the Lebanon Police Department on charges of attempted aggravated robbery and vandalism over $500.00 and the Tennessee Board of Probation and Parole for violating his probation on drug conviction.
Hancock is currently in the Wilson County jail on a $250,000 bond. For more on the story, see: Middle Tennessee Fugitive put on the State's Most Wanted List.