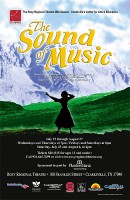 Clarksville, TN – The Roxy Regional Theatre is currently staging a production of the Rodgers and Hammerstein classic Sound of Music. This is a well known and much loved musical that pretty much everyone in the world has seen at least once. This meant that the Roxy really had to get it right with their production. Well they nailed it.
When postulant Maria Rainer (Kendall Anne Thompson) proves too high-spirited for the religious life, she is dispatched to serve as governess for the seven children of widowed naval Captain Georg von Trapp (Bryan Benware).  Kendall Anne Thompson portrays the role with all of the joy and love of life that this staring role calls for.
Bryan Benware as the stern Captain Georg von Trapp started out as a hard military man grieving over the loss of his wife, he softened over time as his love for Maria Rainer began to grow to fill the void.
Different casts of children fulfill the roles of the von Trapp children depending on the night you see the show. The night we went the young actors and actresses playing the parts of the children stole the show with individual personalities!
It's always a pleasure to see John McDonald act whenever he graces the stage at the Roxy Regional Theatre. In this production he played the role of Herr Zeller, the man who came to take Captain von Trapp from his children.
The rest of the roles were filled by a great supporting cast. Without their marvelous acting the stars of this show wouldn't have shown been able to shine as brightly as they did in this production.
The costumes for the Sound of Music were outstanding, the colorful outfits Maria Rainer dressed the children in, the nuns habits, the simple wear of the maid and butler, to the long flowing dress worn by Elsa Schraeder all seemed tailored to perfection and each selected just for that moment on stage.
The sets, I have missed the intricate set work showcased at the Roxy without even realizing it. The alpine mountain, the nunnery, the von Trapp house. All were designed to to pull the audience deeper into the show, and it worked wonders. I loved when the von Trapp Family climbed up the alpine mountains to escape their pursuers.
The Sound of Music runs through August 27th, playing Wednesdays and Thursdays at 7:00pm and Fridays and Saturdays at 8:00pm, with 2:00pm matinees on Saturday, July 23rd, and Saturday, August 6th. Tickets are $20.00 (adults) and $15.00 (ages 13 and under) and may be reserved online at www.roxyregionaltheatre.org
, by phone at 931.645.7699, or at the theatre during regular box office hours (9:00am to 2:00pm, Monday through Friday).
I wholeheartedly recommend you go see this show as The Roxy Regional Theatre and their wonderful crew of actors bring the Sound of Music to life right here in Clarksville, Tn.
Photo Gallery
Cast
| | | |
| --- | --- | --- |
| Maria Rainer |   | Kendall Anne Thompson |
| Mother Abbess |   | Joylene Taylor |
| Sister Berthe |   | Erin Keas |
| Sister Margaretta |   | Heather Trabucco |
| Sister Sophia |   | Erica Lee Haines |
| Captain Georg von Trapp |   | Bryan Benware |
| Franz |   | Matthew Kurtz |
| Frau Schmidt |   | Erin Keas |
| Liesl von Trapp |   | Brianna Fuller, Hannah Church |
| Friedrich von Trapp |   | Nathaniel Taylor, David Judd, Truman Jepson |
| Louisa von Trapp |   | Gavin Berlyak, Margaret Snyder, Andreya Steidl |
| Kurt von Trapp |   | Scott Hall, Noah Booth |
| Brigitta von Trapp |   | Grace Davis, Meghan Judd, Annalise Martin |
| Marta von Trapp |   | Kourtni Cottrell, Sydney Barksdale, Madeline O'Connor |
| Gretl von Trapp |   | Bella Cargill, Zoe Owen, Adianna Cervantes |
| Rolf Gruber |   | Christopher Wren |
| Elsa Schraeder |   | Amanda Morgan |
| Max DetWeiler |   | Ryan Bowie |
| Herr Zeller |   | John McDonald |
| The Nuns Choir |   | Desiree Dolan, Rachel Hansbury, Erin Keas, Briana Larsen, Sarah Jenkins Queen, Kate Rawls, Sara Seesholtz, Lisa Conklin-Bishop (director) |
Musical Numbers
Act I
| | | |
| --- | --- | --- |
| "The Sound Of Music" |   | Maria |
| "Maria" |   | Mother Abbess, Sisters Margeretta, Berthe, Sophia |
| "My Favorite Things" |   | Maria, Mother Abbess |
| "Do Re Mi" |   | Maria, Children |
| "Sixteen Going On Seventeen" |   | Liesl, Rolf |
| "The Lonely Goatherd" |   | Maria, Children |
| "How Can Love Survive?" |   | Elsa, Max, Captain |
| Reprise: "The Sound Of Music" |   | Maria, Captain, Children |
| "So Long, Farewell" |   | Children |
| "Climb Every Mountain" |   | Mother Abbess |
| "How Can Love Survive?" |   | ELSA, MAX, CAPTAIN |
| Reprise: "The Sound of Music" |   | MARIA, CAPTAIN, CHILDREN |
| "So Long, Farewell" |   | CHILDREN |
| "Climb Every Mountain" |   | MOTHER ABBESS |
Act II
| | | |
| --- | --- | --- |
| "No Way To Stop It" |   | Captain, Max, Elsa |
| "An Ordinary Couple" |   | Maria, Captain |
| Processional |   | Ensemble |
| Reprise: "Sixteen Going On Seventeen" |   | Maria, Liesl |
| Reprise: "Do Re Mi" |   | Maria, Captain, Children |
| "Edelweiss" |   | Captain, Maria, Children |
| Reprise: "So Long, Farewell" |   | Maria, Captain, Children |
| Reprise: "Climb Every Mountain" |   | Company |
Biographies
KENDALL ANNE THOMPSON is delighted to be returning as a member of the Roxy's company this season, following performances in, most recently, Almost Heaven, The Civil War, Bea(u)tiful in the Extreme (Sacagawea et al.), Doubt (Sister James), Hamlet (Ophelia), A Christmas Carol (Belle/Mary), Around the World in 80 Days (Aouda), SHOUT! (Green Girl) and Dracula (Vampire Girl). Other credits include: Jerry Springer: the Opera with SpeakEasy Stage Company; RENT (Joanne), Machinal (The Young Woman), The Quick-Change Room (Ludmilla), First Lady Suite (Amelia Earhart) with The Boston Conservatory; Alice in Wonderland (Alice), The Long Christmas Dinner (Lucia), The Man Who Came to Dinner (June Stanley) with James Whitmore and the Peterborough Players. She is a recent graduate of the B.F.A. musical theatre program at The Boston Conservatory. Thank you Roxy Regional Theatre for this wonderful opportunity, and a very special thank you to all friends, family and teachers for their love, prayers and support!
JOYLENE TAYLOR is excited to be back at the Roxy for The Sound of Music.At the Roxy, she has appeared in roles that include Eliza Doolittle in My Fair Lady, The Witch in Into the Woods and Hesione in Triumph of Love. Other roles include Clairee in Steel Magnolias, Aunt March in Little Women and Muddy in Nevermore. She is presently living in Atlanta and appreciates the opportunity to be a part of the Roxy community again.
ERIN KEAS is a sophomore Vocal Performance major at Austin Peay State University. She is more than excited to call The Sound of Music her Roxy debut. Erin's most recent roles include Rebecca Rawlins in Ben and the Virtues, Gretel in Hänsel unt Gretel, Lily in The Secret Garden, and Milly in Seven Brides for Seven Brothers. She would like to recognize her family and friends for always being her biggest fans. Erin would like to dedicate this show to her grandfather, who attended Saturday The Sound of Music viewing parties for many years. Thank you, papa, for inspiring me on and off the stage.
HEATHER TRABUCCO is thrilled to be making her Roxy Regional debut in The Sound of Music and looks forward to returning in the fall for Beehive: The '60s Musical. A graduate of Belmont University, past credits include Maureen (RENT), Holly (The Wedding Singer), Shelby (Steel Magnolias) and Cinderella (Cinderella). Many thanks to Tom, John and the incredibly talented cast and crew for the experience and all the love and gratitude to my friends and family for supporting this crazy dream!
ERICA LEE HAINES is a native of Nashville, made her Roxy debut with Almost Heaven and as the Narrator in Joseph and the Amazing Technicolor Dreamcoat. After graduating from Belmont University, she performed with the Broadway tour of Ring of Fire and with Royal Caribbean Cruise Lines. For the past several years, she has been teaching for universities, performing troupes, and children's instruction resources. This fall, she will be performing in a European USO tour with the Zinghoppers! Visit www.EricaLee.org.
BRYAN BENWARE is very excited to be appearing in The Sound of Music, following performances in Almost Heaven and The Civil War. He has been seen in recent productions of You're a Good Man. as Charlie Brown, CB in Dog Sees God, the Padre in Man of La Mancha, and Ernie in Rumors. A graduate of Missouri State University, he's very happy to be back in the Midwest and in this beautiful area. Thanks to my family for all their support and love. And to my fiancée, Steph, for keeping me out of trouble. Love you!!
MATTHEW KURTZ is a Roxy college intern. He is a currently studying Theater performance at Wayne State University in Detroit, Michigan. The Sound of Music is his second show with the Roxy. He was last seen as Reuben in Joseph and the Amazing Technicolor Dreamcoat. Matthew would like to thank Tom and John for the wonderful opportunity and experience they have given him, and his mom, dad and brother for their love and support.
BRIANNA FULLER is a sophomore musical theatre major at The University of Mississippi. This is Brianna's second summer working with the Parks and Rec Summer Playhouse kids and the summer interns, teaching acting improv and musical theatre dance. She attended the Roxy Regional School of the Arts since age 10 and is again thrilled to be working alongside such talented professionals on the Roxy stage. Past performance credits include Beauty and the Beast, All Shook Up, High School Musical and CATS. To the cast and crew of The Sound of Music, thank you for making this show such as success! It has been a pleasure working with you all! And thank you to my friends and family for all of your love and support! Enjoy the show!
HANNAH CHURCH is a senior musical theatre major at Rockford College in Illinois. After spending her fall studying abroad in London, she is very happy to be returning to the Roxy this summer for The Sound of Music. Hannah has been seen on the Roxy stage in Into the Woods, Beauty and the Beast and Bye Bye Birdie. Her favorite roles include "Anne" (Diary of Anne Frank), "Armanda" (The Glorious Ones), and "Dainty June" (Gypsy). She is coming straight from playing "Minnie Faye" in Hello Dolly at The Round Barn Theatre in Indiana. She would like to thank Tom and John so much for giving her this opportunity to grow in her work, and to play a role she has always desired! It's such a wonderful show, so please, "sit back, relax, and enjoy the performance!"
CHRISTOPHER WREN is a 2008 graduate of the American Musical and Dramatic Academy in New York City, is also a professionally trained saxophonist, guitarist, drummer, harmonica player, puppeteer and touring stand-up comedian. National tour credits include Chuckleball (Various Sports Stars) and Fame the Musical (Goody); Off-Broadway credits include Mr. Marmalade (Larry), God Loves My People Best (Herman Kaiser), Rock and Roll Heaven (I.R.), and Oddy Sea the Musical (Bogel); and regional credits include Alice in Wonderland (The White Rabbit/Cheshire Cat), Big River (Ben Rodgers/Lafe) and The Civil War (Bill); as well as a lead singer in the inaugural cast of Celebrity Cruise Line's Solstice. You can also see Christopher in the independent feature Teach Me How To Be as Christian, the commercials for Qwest and Schick Technologies as well as numerous episodes of "Ugly Betty," "Royal Pains" and "The Good Wife." Christopher is very excited to be back on the Roxy stage as Rolf in The Sound of Music and wants to thank all those who made it come together both on and off the stage, as well as his parents and surrounding family who have always been a constant support.
AMANDA MORGAN is thrilled to return to the Roxy stage, having last been seen as Miss Peretti in Spelling Bee. A native of Cleveland, Ohio, Amanda began her career at the age of 8 with the Cleveland Opera. Some favorite regional credits include: She Loves Me (Amalia), The King and I (Anna) and Camelot (Nimue). Amanda is a graduate of the North Carolina School of the Arts, and currently resides in New York City. Enjoy the show!
RYAN BOWIE has made Clarksville his home, moving from NYC in January 2011, and is excited to return to the Roxy stage for the 28th season. Most recently seen in Almost Heaven, , Ryan's other past Roxy credits include The Civil War, Bea(u)tiful in the Extreme (William Clark), Hamlet (Barnardo/Rosencrantz), Ain't Misbehavin' (Director/Choreographer), Once Upon A Time, A Christmas Carol, Around the World in 80 Days, Dracula (Jonathan Harker), Into the Woods (The Baker) and Forever Plaid (Jinx). Other professional credits include Jesus in Godspell and Hamilton in the NYC premier of Dotty Dot: A New Children's Musical, Freddy in My Fair Lady (Midwest), Jonas in The Giver (Chicago), Ryan in High School Musical (Midwest), Jack Chesney in Charlie's Aunt (Midwest), Dick in Dames at Sea (Maryland), J. Pierpont Finch in How to Succeed. (New York) and Matt in The Fantasticks (New York – tour). Training: Frostburg State University – BA Theatre: Acting & BA Music: Vocal Performance. Special thanks to his very supportive friends and family. Stay up to date at www.ryanbowie.com.
JOHN McDONALD is the founder and Artistic Director of the Roxy Regional Theatre. A graduate of the American Academy of Dramatic Arts, as an actor John has worked with the New York Shakespeare Festival, Macbeth with James Earl Jones; Long Wharf Theatre, A Lion in Winter with Ralph Waite; and productions of Long Days JourneyInto Night (James); Macbeth (Macbeth); Who's Afraid of Virginia Woolf? (George); and numerous others. As an instructor, he has taught theatre at the American Academy, The Rhodes School, The Dwight School, Hewitt, and is the creator of the Roxy Saturday Workshop, an acting program for young performers. Writing and production credits include, among others, Jekyll and Hyde, The Red Badge of Courage, Dorothy Dix: Speaks!, Nora Witzel: A Very Curious Fella, The Picture of Dorian Gray, All Quiet on the Western Front,Poe Unearthed and Headin' South, Goin' North for the Fourth Annual Clarksville Writers Conference.
TOM THAYER has been Managing Director of the Roxy Regional Theatre since its inception in 1983. Training includes Austin Peay State University and Lambuth College, and he is a graduate of the American Musical and Dramatic Academy, NYC. While living in New York, he worked as a public relations liaison for the Metropolitan Museum of Art, created and taught dance programs at the Dwight School and created and taught young dramatics for the Rhodes School. He is the founder of the Clarksville Theatre Guild, as well as the Roxy Regional Theatre, and has performed off-Broadway as well as throughout the South. With Artistic Director John McDonald, he created the Roxy's Professional Company and serves as a director of the Summer Drama Camp, which is sponsored in conjunction with the Clarksville-Montgomery County Parks and Recreation Department.
ADAM KURTZ (Production Stage Manager/Company Manager/Sound Designer) is a native of Detroit, Michigan. He is a graduate of Wayne State University, where he received a BFA in Theatre in Design / Technology, specializing in Stage Management. This is his third season at the Roxy, and he is excited to be back. His previous Roxy credits include A Christmas Carol, CATS, RENT, The 25th Annual Putnam County Spelling Bee, A Streetcar Named Desire, Ring of Fire, Of Mice and Men, Forever Plaid, Into the Woods, Shout, Dracula, Around the World in 80 Days,Ain't Misbehavin', Hamlet, The Civil War and Almost Heaven, among others. While here at the Roxy, Adam has also had the opportunity and honor to function as the Sound Designer for numerous productions. He has also been able to function as the Lighting Designer from time to time. He steps into a new area this year as Projection Designer for various upcoming productions. Adam would like to thank Tom and John for this wonderful opportunity and his family (Mom, Dad, Matthew, Lucky the dog, Aunt Nancy & Aunt Karen) for all of their love, support and encouragement.
KYRA BISHOP will be a sophomore at the Conservatory for Theatre Arts, Webster University, this fall, studying scenic design and scene painting. Previous local productions include the world premier of Ben and the Virtues (Scenic Designer and Scenic Artist) at APSU, Into the Woods (Scenic Artist) at the Roxy and The Pirates of Penzance (Scenic Designer) at APSU. At Webster University, her credits include paint crew for The Insect Play and Almost, Maine and properties master for The Government Inspector.