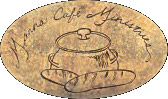 Clarksville, TN – Manna Café Ministries of Clarksville invites the public to our first Community Yard Sale Saturday, August 13th, 2011 at from 7:00am to 2:00pm at Manna House at 1319 East Franklin Street Clarksville.
The benefit will help support three weekly Mobile Café events and other community services of the ministry. "We try to balance any request for funds with a fundraising event, so the community can see the sweat equity we put into the operation," said Manna founder Kenny York.
Volunteers are currently preparing table space and are accepting donations for the event. "Any household item is acceptable. Books, CD's, appliances, tools, toys etc." said York. "If it's in good working order and someone else might make use of it, we welcome the donation." He said. Manna is asking anyone with a donation to go to their facebook page and let them know or drop items by the Manna House beginning Monday, August 8th.
In addition to the Mobile Café, Manna also distributes groceries from its warehouse and conducts a Mobile Pantry monthly distributing boxed groceries in low income areas.
Manna Café Ministries is a non-profit 501c3 organization founded by Kenny and Vicki York, who have a combined 16 years experience serving the hungry. "Our message is that God has not forgotten the poor," said Vicki York, "Our job is to love them and call them by name."
Visit their website at www.mannacafeministries.com