Clarksville, TN – Reptiliacs will present a snake program on Saturday, August 13th, 2011, 1:00pm at Dunbar Cave. 
This hands-on program will allow you to see and handle some of the harmless reptiles owned by Sherry Koontz-Howell and Donnie Howell of Reptiliacs.  In addition to some of the more exotic reptiles such as a Burmese Python, Ball Python, Bearded Dragon, Giant African Pyxie Frog, etc., native species from Tennessee such as ratsnakes, cornsnakes and garter snakes will be presented.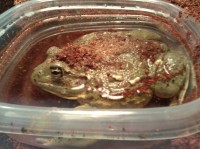 All reptiles are non-venomous and the program provides an excellent opportunity to learn about habitats and care for these wonderful creatures as well as their role in the ecosystem.
This program is suitable for all ages and is free to the public.