APSU Sports: Men's Football

Clarksville, TN – It was a mile, but it wasn't the distance that mattered as much as the person who led the way.
When Austin Peay's backs and receivers ran the mile early Monday morning, the first person across the finish line was none other than starting quarterback Jake Ryan.
Although Ryan has been the Govs starting quarterback the previous two seasons, the junior now is displaying the necessary leadership qualities that APSU hopes will elevate their offensive game in 2011.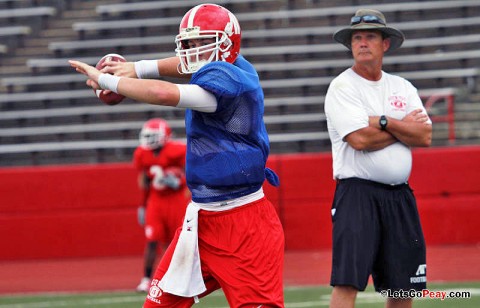 "They say quarterbacks don't have to be liked-different guys do it different ways-Jim McMahon did it one way and Tom Brady has done it another," APSU coach Rick Christophel said. "But it comes down to your teammates liking and respecting you. After games it is the quarterback they (the media) search out for answers. That's the guy who has to hold himself right and answer questions about the team in the right way.
"That's where Jake is right now. He is a guy who has earned the respect of his teammates."
Ryan got off to a terrific start in 2010, but struggled during the season's second half. He finished the season with 1120 passing yards and seven TDs, but completed a little better than 50 percent of his passes while throwing 11 interceptions. Christophel is convinced that Ryan is ready to turn the corner and become a more consistent performer.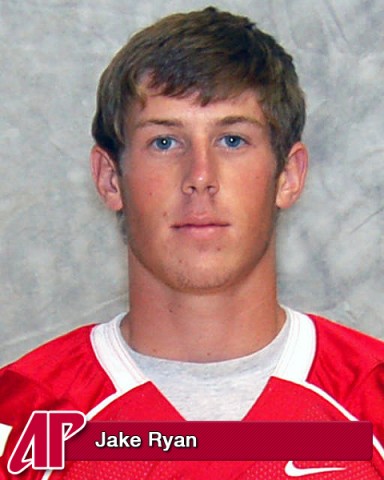 "Jake has worked extremely hard in the offseason to increase his strength and endurance," he said. "He's got his weight over 205 pounds because he really has put in the work. He looks better and he is carrying himself better.
"But maybe the best sign came in our first practice-the first four passes he threw were to the backs. He is starting to understand what we are expecting from the position."
It will be extremely important to keep Ryan healthy.  Behind him is a pair of freshmen, Landon Curtis and Jacob Sexton. One thing for sure, both will get plenty of snaps during preseason scrimmages.
"The two young guys are going to be good players," Christophel said. "They both have good arms and athletic. They also are both very coachable.
"One of them is going to have to step forward (to be the backup). What I really like about them is they pay attention to what you are telling them and they are not afraid to ask questions. I think we are going to be in good hands over the next few years."