Montgomery County, TN – To say Marc DiBernardo runs for a reason is an understatement. On Saturday, October 15th, this Fort Campbell Soldier will run in the Go Commando Half Marathon presented by CDE Lightband in hopes of breaking his second world record. His mission is to bring awareness to Team Red, White & Blue, a non-profit organization committed to wounded veterans and their families.
DiBernardo began running when he joined the military in 2002. However, he soon took running to a new level. Each time he enters an event, DiBernardo wears a unique piece of racing equipment, a gas mask. What started as a lighthearted approach to fitness turned into a passion. DiBernardo has participated in several military challenge competitions, including Fort Campbell's 'Toughest Air Assault Competition' in 2007. Now he has set his sights to Go Commando and he's bringing the mask with him.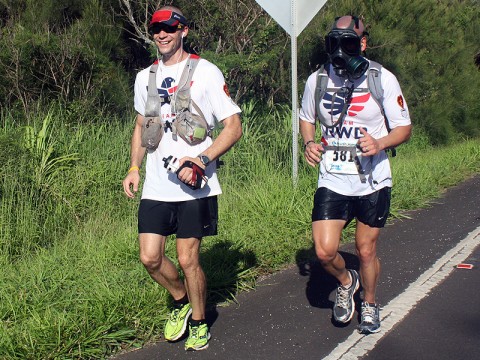 When asked about the purpose of the gas mask, DiBernardo had several reasons. Besides improving his breathing, he uses the gas mask as a symbol of something much more. "It represents a soldier's last breath for freedom," he said. "I wanted to honor the sacrifice they have made for their country and raise awareness of the sacrifices all soldiers are making today".
It was with this same mission in mind that DiBernardo began working with Team Red, White & Blue. This national non-profit organization is committed to enriching the lives of wounded veterans and their families. The organization works closely with the military and Veterans Affairs Administration (VA).Their mission is founded in building one-on-one relationships with those they serve, creating a social leadership-based network and participation in endurance events. Team RWB members participate in events to raise awareness and money for the organization, with one hundred percent of the donations going directly to the wounded veteran's re-integration process. More information about Team RWB can be found at teamrwb.org.
This October, at the Go Commando Half Marathon, DiBernardo will once again don the gas mask and run 13.1 miles in an effort to achieve the world record for fastest half marathon while wearing a gas mask. If he reaches his goal, this world record will be given in honor of the fallen 101st Airborne Division soldiers. This is the second time DiBernardo has pursued a world record. His first world record was accomplished in May 2011 at the North Shore Marathon in Honolulu, Hawaii. That award was also done in honor of the 506th Infantry Regiment of the 101st Division. DiBernardo insists these world records are simply to honor the fallen and create awareness for his cause.
DiBernardo said, "People need to know they can use their talents, any talent, for a good cause. Team RWB is my cause and I am running this race to raise awareness of their mission".
About Go Commando
Entry fees for the half marathon are now $55.00 and $25.00 for the 5k. Prices will increase beginning October 1st, 2011. All race participants will receive a pair of premium race shorts and finisher's medal. Both the half marathon and 5k courses will begin and end in Liberty Park. A post race party, featuring Michelob Ultra, will be held at the finish line. Course maps are available online and courses will be certified by USATF. A free Health & Wellness Expo will be open Friday, October 14th from 10:00am – 8:00pm featuring health conscious vendors and products.
 
If you or someone you know is interested in participating, contact the race office at 931.245.4347. Visit the event website, www.gocommandoclarksville.com, for race information. The event staff is also looking for volunteers and race marshals to assist with the event. Call the race office to learn more about volunteer opportunities.
 
The Go Commando Half Marathon and 5k presented by CDE Lightband began in 2011 to promote health and fitness to the community. The event is organized and supported entirely by local businesses and organizations. All proceeds from the event will go to support local initiatives: YMCA's Restore Ministry and ABC Outreach Program, the Wings of Liberty Historical Foundation and Austin Peay State University. If you are interested in sponsoring or advertising with our event please contact Jessica Goldberg at 931.245.4346 or email . If you are interested in participating in the event, visit the website or contact Channel Lemon at 931.245.4347 or email .