Clarksville, TN – The City of Clarksville held their first Pooch Pool Party this weekend at the Swan Lake Swimming Pool. Around 60 pets participated in this ground breaking event for the City of Clarksville. One reason that Swan Lake pool was chosen was due to the fact that the kids wading pool is the only zero-entry swimming pool in our area. Both of the pools at the facility were open to the pets. Special ramps were attached to the hand rails to allow easy entry and exit from the main pool.
In addition to the swimming, there were several games held including a big splash contest. Liz McGraw's Malti-poo (Maltese and Poodle mix) McKenzie won the contest for animals for 30 pounds and under. Door prizes from the various sponsors were also given away.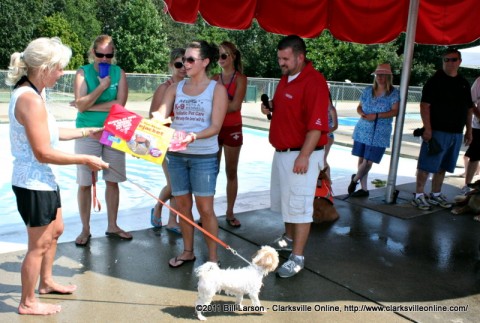 Owner Sandy Daens attended with her Collie Mix, Shiloh. She really liked the event, "I Love it, it was so much fun. I am glad that Clarksville finally did something like this; because other towns are doing it." Sandy divides here social time with her pet between Clarksville, and Nashville as she lives in the Pleasant View Community.
Brian was enjoying the day at the pool with his Louisiana Cur Bandit. He also liked the event, "I think it is awesome. Dogs don't get to go swimming anywhere around here. I usually go running with him in the morning, but having the chance to attend social events like these with my pet is great."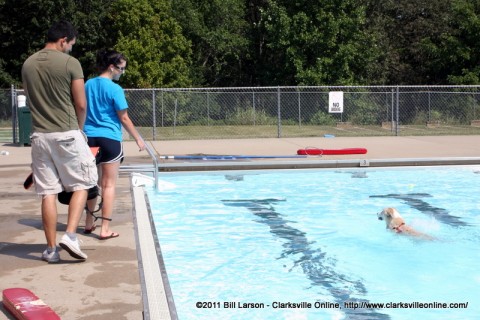 Don Savarese was on hand from the Guest House for Animal; a boarding house for dogs, cats, and other things. They were one of the event sponsors. "Anything that you can do for the dogs and get the canine community together is just a really great thing. More pet activities; more more more! Please!" he said. The Guest House for animals takes care of pets for people when they are away for vacation or deployments, long term for military or just an overnight stay for a trip to Nashville. This has been a wonderful event.
Other sponsors included:
Montgomery County Friends of the Shelter
Montgomery County Humane Society
Guardian Angels for Soldier's Pet
Alicia's K-9 Kuts and Kennels
Cumberland Pet Sitting Service
Amy Ansel Shaver represented the Montgomery County Humane. "These pool parties go on across the nation, and for Clarksville's first pool party I think this was awesome. Every year I am sure it will get bigger and bigger, and eventually this will be a Doggie Palooza style event with hundreds of people coming out, and just anticipating going to it year after year. Up until the last five or six years there really hasn't been anything to do for owners and their pets. Our city is really starting to evolve when it comes to activities for pets."
Mathew Nixon an event planning specialist for the city was running the event.  "We are just finishing up holding Pooch Pool Party at the Swan Lake sports complex. This was the first time we did this. We had over 60 participants that got to swim as the owners watched. We based this event off of a similar one held in Murfreesbro." He continued, "This is the third event for canine pets in Clarksville. We have Doggie Palooza, The Pooch Pool Party, and the Fall bark park. Clarksville is a very dog friendly city. The City has a bark park at Heritage park with a two more planned, one at at Liberty Park when it opens, and another one down the road in Sango. Pets are also welcome to accompany their owners at the Clarksville Downtown Market. The Clarksville Greenway has, and Liberty Park will have, some wonderful walking trails."
There Two exceptions to the open invitation for pets; indoor events, and at the city Sports fields. Pet owners are asked to keep their pets on leashes when on the trails, and to clean up after their pets if there are any accidents.
After the success of the inaugural pooch pool party, the city is already planning to hold the event again next year.
If you have any questions please call the Clarksville Department of Parks and Recreation at 931.645.7476.
Photo Gallery