APSU Sports: Men's Football

Clarksville, TN – In two seasons Stephen Stansell literally has booted himself up the Austin Peay kicking records chart.
Stansell has kicked 21 field goals in his two seasons, tying him for third all time in career field goals made (Tom McMillan holds the career mark with 33 field goals from 1986-89). The junior from Athens also is tied for career field-goal percentage (63.6 percent).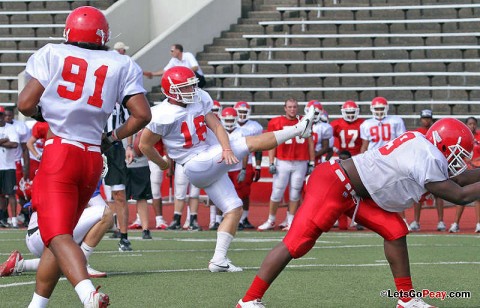 In 2010, Stansell kicked 12 field goals, the second most in APSU history. He also set an Austin Peay record for most 50-yard field goals in a single season-he had three. A Fred Mitchell Award nominee as the nation's top FCS kicker, Stansell was named OVC Specialist of the Week a year ago after booting four field goals against Tennessee State, including the game winner. Those four field goals tied the APSU record for single-game field goals.
"Our kicking game is very good hands with Stephen Stansell," APSU coach Rick Christophel said. "He is accomplished. His potential is unbelievable. It is matter of how he approaches it."
Stansell could be asked to even handle the punting duties now that four-year starter Ryan Key has graduated. However, a pair of freshmen, Ben Campbell, who doubles as a tight end, and Walter Spears, a walk-on, also could figure prominently in the picture.
The snapper position again will be Nick Newsome, beginning his fourth season handling the duties. Redshirt freshman Michael Dunphy, who walked on a year ago, also has displayed he is capable of handling those chores if Newsome would not be available.
Of course, when talking about APSU's kicking game, "the elephant in the room" cannot be ignored. After owning one of the nation's best kick/punt return specialists in Terrence Holt for the past four years, the Governors must seek a successor in that area.
"You cannot easily replace an All-American," Christophel said. "He was a game changer-he could win a game for you or put you in a position to win a game.
"In a sense you can't really replace him. You don't want to put that type of pressure on somone. He has to be a guy who fields the ball-doesn't make the big mistake-and do all the right things. If we have someone who can go above that and do some of the things that Terrence did, so be it."
The kick and punt return positions remain up for grabs. Wide receivers Terrence Oliver and Tee Howell both were effective return men in high school. Cornerback Sheldon Wade and running back Ean Pemberton also had great success in high school in the return game. It also even could be one of the Govs incoming freshmen.