Clarksville, TN – On August 28th, 2011, around 9:00am, a single vehicle crash sent three to the hospital. According to witness accounts, a 2005 Honda Hybrid driven by a 23 year old man and a red vehicle with an unknown driver appeared to be drag racing eastbound on the 1000 Block Tiny Town Road.
The Honda was in the left lane and the red vehicle was in the right lane. The red car drifted into the Honda's Lane as they entered a curve; it does not appear as though contact occurred between the vehicles. The Honda swerved away from the vehicle, lost control, left the roadway, rotated, and the driver side of the vehicle hit an electrical pole. The pole was ripped out of the ground and the Honda flipped and came to rest on its roof on top of the pole.
The 23 year old driver, 24 year old male passenger (Honda), and 2 year old female child had to be extricated from the vehicle.  Emergency responders were able to quickly extricate the two adults, but it took almost an hour to safely remove the child.  Additionally, the child was restrained in the child safety seat and was the child of the driver.
The 23 old driver was taken by Lifeflight to Vanderbilt with back and wrist pain. The 2 year old female was alert and conscious with some abrasions and was transported by Lifeflight to Vanderbilt for further evaluation. The 24 year old passenger was taken by ambulance with what appeared to be non-critical injuries.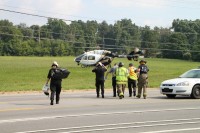 There was another vehicle which was not directly involved in the crash but directly affected by the end result of the single vehicle crash. A Honda van driven by a 41 year old female was traveling eastbound when the Honda Hybrid crossed in front of her van before it crashed.
After the crash took place, live power lines from the electrical pole fell on top of the Honda Van trapping the 41 year old along with her 8, 13, and 15 year old children. The van sustained damaged, but the occupants were unhurt.
The red vehicle and the unknown driver (gender unknown) left the scene. The vehicle was a flat red color and may have been a Mazda, possibly 90s model. There was a decal on the rear of vehicle which said "Zoom, Zoom".
Clarksville Police are looking for any other witnesses that saw the crash. Also, police would like to talk to the driver of the red vehicle as part of our investigation.
Names will be released after notification of family.
The investigation is ongoing. The lead investigator is Officer Melissa Spielhagen. Anyone with information can call 931.645.8477.
Photo Gallery