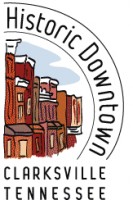 Clarksville, TN –  Downtown Clarksville's 6th annual celebration of the arts, "Frolic on Franklin" will take place Saturday, September 17th. Hosted by the Downtown Clarksville Association, the event will showcase the works of 30 local and regional artists along the 100 block of historic Franklin Street.
A variety of original artwork and crafts will be on display including jewelry, pottery, water colors, woodwork, ceramics, glass items, photography and more. Items will be for sale with prices ranging from $2.00 – $2,000. Several artists will also provide demonstrations of their work throughout the day including painting and decorating glass ornaments, making wooden items with lathes, and various types of painting.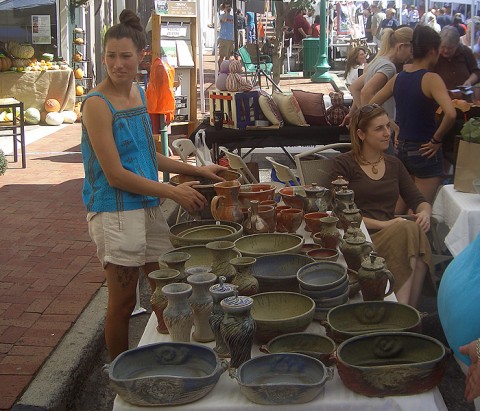 "We're thrilled to offer a full slate of artists this year, and to have broadened our reach," said Frolic Coordinator Michelle Dickerson. "We have some artists that have participated every year, but more than half are new to the festival this year…which is very exciting." 
Beyond Clarksville, artists hail from Smyrna, Burns, Springfield, Ashland City and Nashville, TN, as well as Fort Campbell and Trenton, KY.
Participating vendors include: Jennifer Reverri, Ed's Clocks and Rocks, Keith Fehrman, Ronnie Thorton, Louis Toth, Curious Cases/A Heron Design, Visions2Images, Original Wood-Works, Dr. Johnnie ABC, Tuckessee Woodturners, Classical Stone Carving, Gynell West, Yvonne Wheeler Hiett, Carolyn Rogers, Twisted Creations, Made with Love, That Creative Touch, Creative Cutters Corner & Crafts, Wooden Things, Clarksville Academy Photography Department, Captured by Grant, Rocking Horse Class, Country Cousins Crafts, Mia's Creations, Michael D. Hughes P hotography, Two Branches, Artwork by Elizabeth Hadden, DREGstudios!, NSRVampChicks Designs and Friends of Photography.
In addition to artist booths, staged entertainment is scheduled throughout the day, including a first-ever Roxy Idol Contest. Singers, dancers, comics –whether group or individual–can register by sending an e-mail to . The winner will receive a special prize and have a cameo appearance that evening in "Beehive: The 60's Musical Sensation." Registration deadline for the Roxy Idol Contest is September 15th.
9:30am – Cumberland Winds' Jazz Project
10:45am – Northeast High School Exit One
Noon – Austin Peay State University Opera Workshop
1:15pm – Yesterday!
2:15pm – Lydia Walker
3:00pm – First Roxy Idol Contest
Shops and restaurants along Franklin and throughout the downtown district will also be open, as will Downtown Market until 2:00pm.
Frolic on Franklin is free and will be held from 9:00am-4:00pm.
The evening will culminate with a ticketed Roxy Gala auction, dinner and show.
For more information about Frolic on Franklin or Roxy Gala tickets, please contact the Roxy Regional Theatre at 931-645-7699.