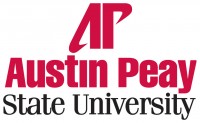 Clarksville, TN – Dr. Minoa Uffelman, associate professor of history at Austin Peay State University, kept checking her email earlier this week, hoping to hear something from the National Phi Alpha Theta (PAT) History Honor Society.
She knew that every year, around this time, the national organization announced the winners of the "Best Chapter" awards, and she was hoping APSU's Theta Delta Chapter would take home the honor for an unprecedented third year in a row.
But by Tuesday morning, her email inbox was empty, and she began to get worried.
"Maybe I was a little nervous," she admitted, "because I checked my email several times a day looking for it."
To take her mind off of it, she went to check her regular campus mail. A manila envelope was waiting for her.  She quickly opened it and found a certificate inside designating the APSU organization as the best chapter in the nation for its division.
"I was absolutely thrilled. I don't remember the last time I got news by mail," Uffelman said. "I'm really proud of the students because they worked so hard. It speaks very highly of them."
Shortly after opening the envelope that morning, Uffelman sent off a quick text message to her former student, Jennifer Montgomery. Montgomery is now in Knoxville, pursing a graduate degree in history at the University of Tennessee, but last year she served as the president of the APSU PAT chapter. It was her leadership and hard work that helped the club garner a third best chapter award. Moments later, a text message appeared on Uffelman's phone from Montgomery that read, "Sweet!!! Yay for the threepeat."
Emails soon went out across campus and messages appeared on Facebook announcing the news, but most people familiar with the APSU PAT chapter weren't that surprised. The group worked just as hard last year as they had the previous two years, hosting lectures, attending workshops and roundtables, volunteering in the community and delivering papers at academic conferences. And last April, the chapter released a new, 95-page scholarly journal featuring academic papers by APSU students who had presented at conferences in recent years.
"I really had confidence that we'd win again because we did everything we'd done before, and we had a journal," Uffelman said.
The APSU PAT chapter is now undeniably one of the nation's strongest history organizations, and Uffelman said they'll continue to work toward a fourth award next year.
For more information on the APSU PAT chapter, contact Uffelman at uffelmanm@apsu.edu.