APSU Sports: Men's Basketball

Clarksville, TN – Anthony Campbell smiled. No, he beamed.
When it was mentioned how important Thursday night was, he couldn't help but smile, partially out of relief. It had been eight months since Campbell tore both the anterior cruciate and medial collateral ligaments in his left knee during a December 8th practice, with surgery last December 28th. Thursday night was the so-called day of reckoning-it was the culmination of eight months of arduous-and sometimes painful-rehabilitation.
Thursday night was when Campbell was given "medical clearance to resume basketball activities" by team physician, Dr. Cooper Beazley, who performed the surgery back on December 28th. Back in May, Campbell was informed he had received a medical redshirt for the 2010-11 season and will be a junior athletically this season.
With the help of the Austin Peay athletic training room, led by head athletic trainer Joni Johnson, Campbell is ready to rejoin those teammates on the basketball court. In fact, a day after suffering the knee injury, former Governor teammate Kyle Duncan, who had suffered a similar knee injury during his career, came to visit Campbell, explaining to him the many travails that lay ahead and also told him that "Miss Joni was going to his best friend" during the rehab.
"I don't know about being his best friend," Johnson laughingly said, "maybe his worst enemy.
"Anthony did all the work and he gets the majority of the credit. His teammates helped out as well. There were times we needed help with drills on the floor because the coaching staff could not be involved. They held onto ropes when we needed that, rebounding, practically anything we needed. His teammates really took an interest in it as well."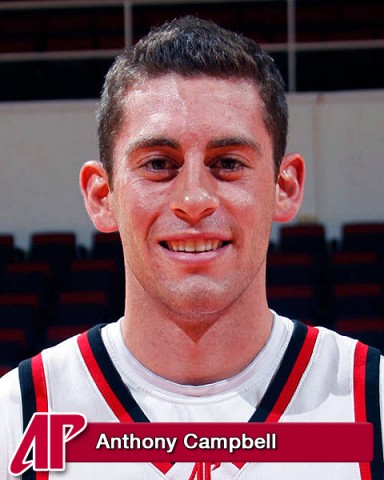 Now the left leg is comparable to the right leg. It did not come without frustrations for the Edwardsville, IL, native, who was a second-team All-Ohio Valley Conference selection in 2009-10 selection after averaging 15.5 ppg. But he fought through some early discomfort during the rehab phase and determinedly began rebuilding the knee. At the same time he was working on the knee, he also was able to get into the weight room to add strength to the rest of his body, in particular the upper torso and has seen the once lithe 200 pounder now weighing in closer to 220 pounds.
Finally as the semester closed he was able to perform more basketball-related activities.
 "I think the easiest thing to say," Johnson said, "with the timing of his injury and the timing of his surgery, it placed his rehab to where the majority of his time we put him into re-entry phase-to more running, cutting, and jumping, things more sport specific-came during summer vacation time. During that timeframe he was able to dedicate three- to-four hours a day to shooting drills, whether it was supervised or on his own. He ran the weight room almost every day. There were times he had off because he needed to have time off.
"We were doing agility drills, jumping drills, everything he needed to do that would relate him to basketball and be able to get him back into activity as safely as he could by getting him as strong as he could."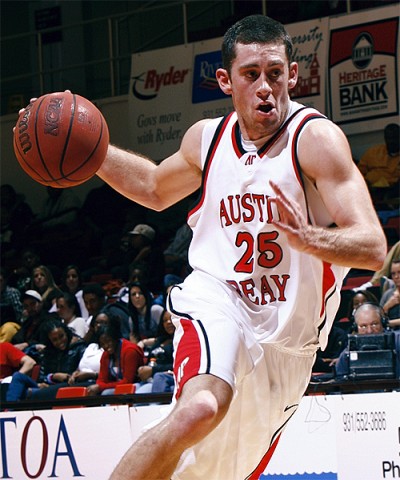 One of the challenges for both Campbell and Johnson was keeping things fresh, especially during the summer when distractions can be aplenty.  In fact, one afternoon, while Johnson was overseeing one of the football offseason conditioning groups, Campbell jumped in and did some of their agility work.
"I tried to keep it interesting for him over the summer," Johnson said. "No one wants to work out like that three-to-four hours a day every day three-to-four months straight.  With an ACL, it is not just three-to-four months straight, it's seven, nine, 12 months straight when you are not in that activity.
"What we did over the summer, we put together four different weight programs and alternated it with jump programs and agility programs so we varied it so much that we were not doing the same thing for more than two weeks at a time. He got some time off, but when he wasn't here he was working out back at home when he was working out when he was doing camps at different satellite areas or running the beach (during a family vacation)."
Although Campbell was cleared medically, Thursday night, it still will be a few days before head coach Dave Loos clears his 6-7 frontliner for contact work or pickup games. He wants to observe firsthand Campbell in the Govs preseason individual workouts and then allow him to gradually work back into full activities.