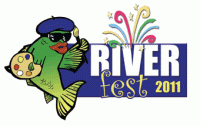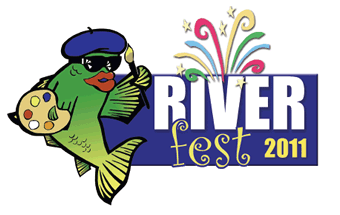 Clarksville, TN – The 2011 Riverfest Festival kicks off this afternoon with weather that can only be described as absolutely perfect; temperatures are expected to be upper 70's, low 80's. Now in its 24th year, the free festival held on the banks of the Cumberland River celebrates Clarksville's river heritage.
Riverfest runs Friday September 8th – Saturday, September 9th and features six stages of entertainment, art exhibits, crafts, vendors, delicious food; and fun for the entire family.
Entertainment
The Bud Light Stage will feature Rock and Country acts, including UZoo – The Authentic U2 Tribute Band Experience, Chain Reaction, and festival headliner Collin Raye.
The Coup stages will cater to the alternative music crowd. In previous years the Coup had just one stage, but this year they will be offering both a main stage, and a side stage jam packed with non-stop musical action.
On Friday night only, the Mary the Music Store Stage be the place to come enjoy the best in contemporary Christian music.
On Saturday the Mary the Music Store Stage becomes the Gateway Stage, and will provide a venue for local dance teams to strut their stuff.
The River of Culture stage will be located in the kids zone, and gives parents something to do while their kids enjoy the Adventure Zone, and Toddler Town. The stage gives Clarksvillians a chance to experience the rich diversity of our community through music, dance, and displays from local cultural groups.
The Kids Zone
Adventure Zone and Toddler Town
Sponsored by Clarksville Family Magazine the area caters to kids of all ages.
Among the many Adventure Zone activities are Inflatables, a Mechanical Bull, a Rock Climbing Wall, Quad Bungee, and a Spider Web Mountain. Some of these activities require an armband which costs $10.00 but covers unlimited access for both days of the festival.
Riverview Mounds Farm will be offering a series of activities including $2.00 Pony Rides, a petting zoo, and Piglett Rages.
Other games and activities will be offered by area non-profit groups.
In the Toddler Town you will find activities catering to children age 5 and under. These included a covered area with preschool activities, small inflatables, a trackless train, and plenty of seating for parents. Clarksville Family Magazine gives away handy tote bags, along with copies of their wonderful magazine to the parents.
Cornhole Tournament
There will be a Cornhole Tournament in the kids zone on Saturday at 2:00pm.
Cornhole or Corn Toss is similar to horseshoes except you use wooden boxes called cornhole platforms and corn bags instead of horseshoes and metal stakes. Contestants take turns pitching their corn bags at the cornhole platform until a contestant reaches the score of 21 points. A corn bag in the hole scores 3 points, while one on the platform scores 1 point.
Riverfest Regatta
The Riverfest Regatta kicks off Saturday morning, with various teams competing to be the first to paddle their cardboard boats across the finish line. This event is both fun to watch and fun to participate in. The various teams have developed rivalries which adds to the competitive nature of the event.
Talent Competitions
A county music talent contest is sponsored by the Daymar Institute, and gives local musical talent a chance to win a $1,000. The finalists will perform live on the Bud Light Stage on Saturday.
Another great talent competition at Riverfest is the Gateway to Stardom competition which gives young performers a chance to showcase their talents. The finalists will be performing on the Gateway Stage at 5:15pm on Saturday. This is a do not miss event.
Tour d'Art
The Tour d'Art art exhibit features three divisions, High School, Amateur/Professional and Senior.
The High School division is being held at the Customs House Museum, and will feature photography/digital imagery, 3D/sculpture, painting, mixed media/collage, and drawings from students attending High School in Clarksville-Montgomery County.
The Amateur and Professional Division is a fully juried art show at the Smtih-Trahern Mansion that features the best art from both well known and emerging artists throughout the region.
The Senior Division Exhibit will be at the Downtown Aritsts Co-op and features artists who are 65+, the show includes Photography, Painting & Watercolor, 3D & Fiber Arts, and Drawing.
The Tour d'Art is sponsored by the Arts and Heritage Development Council and the Downtown Artists Co-op.
Lighted Boat Parade
Sit back and watch as the Cumberland River is illuminated in a majestic display of floating lights during the 4th Annual Riverfest Lighted Boat Parade Saturday night, September 10th. The boats leave the Marina Basin at 7:00pm and proceed down the parade route past McGregor Park and the Riverfest Celebration.
Fishing Tournaments
The Big Bass and Big Cats Fishing Tournaments are returning to Riverfest this year.
After Fairgrounds Park was closed for construction, the tournament was put on hold. With the recent opening of the new Clarksville Marina boat ramps at Liberty Park, the tournament will return for it's second year to benefit the Tennessee Wildlife Resources Foundation.
The Big Cats Tournament will be Friday, September 9th, with registration beginning at 6:30pm. Blast off will be at 8:00pm, and weigh-in is scheduled for 7:00am, Saturday, September 10th.
The Big Bass fishing tournament will be Saturday, September 10th, beginning with registration at 4:30am. Blast off will be at 6:00am with the weigh-in scheduled for 2:00pm.
Prizes are big. Of the total entry fees, 70 percent will be paid back in prizes for a minimum of the top three places. Also, a big fish pot will be collected at $10.00 per boat with 100 percent going to the angler with the tournament's biggest fish. Door prizes will also be awarded.
The Big Bass Fishing Tournament is sponsored by the Tennessee Wildlife Resources Foundation, The Leaf-Chronicle, Clarksville Parks and Recreation, Odom's Blue and Gray Marine, and Triton Boats.
Riverfest Recycles
With the thousands of festival goers, hundreds of volunteers and countless others, how can we keep from leaving a huge environmental footprint? Riverfest Recycles is a program that encourages festival goers to take their plastic bottles to the Bi-County Solid Waste Booth to receive a raffle ticket. (If you are not interested in the ticket, but want to recycle your plastic bottle, please deposit it in any of the recycling bins located throughout the festival area.) Your ticket will then be entered into a drawing for a WIDE SCREEN TELEVISION courtesy of Bi-County Waste Management! There is no limit on age or amount of tickets you can receive.
Shuttle Service and Parking
Free parking is available at Austin Peay State University's Dunn Center parking lot. Bus Service will run every 30-45 minutes to shuttle festival guests to the Riverwalk on Saturday. The shuttle service will begin at 9:30am and the last pickup from the Riverwalk will be at 11:15pm.
Buses will stop at APSU on Marion Street between the Dunn Center and the Football Stadium. Buses will stop at the McGregor Park Boat Ramp at College Street and Riverside Drive.
Riverfest Parking will not be permitted at the Two Rivers Shopping Center (Two Rivers Mall) or at Riverside Drive Businesses during their business hours.
Handicap Accessible Parking
For ADA Assistance with this event, please call 931.645.7476.
Parking for Guests with valid handicap licenses or placards will be available at a designated lot across from the Park's main entrance. CTS buses can accommodate riders with special needs and wheelchairs, therefore additional parking is available at the APSU Dunn Center parking lot once the nearby lot is full.
Boating information
The Courtesy Boat Dock and Boat Ramp at the McGregor Park will be closed Thursday morning through Saturday night. Boats can be anchored on the county side of the channel during the festival, however no boat may anchor in the channel or on the Riverwalk side of the channel.
River traffic may be subject to safety checks including Boating under the Influence, and to ensure that proper safety equipment is on hand. These regulations are subject to change at any time.
Festival Rules
No Pets
No outside food or drinks
No coolers
No weapons of any kind (this includes pocket knives)
No roaming solicitation
No flash photography, camcorders or recording devices during headlining concerts
No amplification other than scheduled shows and entertainment
Any violation of these rules and policies will result in confiscation of items and or immediate expulsion from the festival.
Schedule of Events
Bud Light Stage
Friday, September 9th
5:00pm-5:45pm
Dustin Overbeek
6:00pm-6:45pm
Ekoh and the System
7:00pm-7:45pm
Black Market Research
8:00pm-9:15pm
UZoo – The Authentic U2 Tribute Band Experience
9:30pm-11:00pm
Chain Reaction
Saturday, September 10th
11:00am-11:45am
Backroad Brigade
12:00pm-12:45pm
To be announced
1:00pm-1:45pm
3CK
2:00pm-2:45pm
Black Velvet
3:00pm-3:45pm
Yesterday
4:00pm-4:45pm
McAllisters Crossroads
5:00pm-5:45pm
Easy Street
5:45pm-7:30pm
Country Star
7:45pm-9:00pm
Eric Beddingfield
9:15pm-10:45pm
Collin Raye
Mary's the Music Store Stage
Friday, September 9th
5:00-5:45pm
Jason Ellis
6:00-6:45pm
Soul Stirrers
7:00-7:45pm
Delora
8:00-8:45pm
Exit Right
9:00-10:15pm
Britt Nicole
Gateway Stage
Saturday, September 10th
10:00am-10:25am
Glorious Feet
10:30am-10:55am
CAST
11:00am-11:25am
Distinguished Steppers
11:30am-11:55am
Natalie's Dance Network
12:00pm-12:25pm
Rossview Middle School Dance Team
12:30pm-12:55pm
STARS Dance Studio
1:00pm-1:25pm
Lana's Dance Center
1:30pm-1:55pm
Clarksville Academy Dance Team
2:00pm-2:25pm
Montgomery Central High School Dance Team
2:30pm-2:55pm
Acro Dance Express
3:00pm-5:00pm
Step Show
5:00pm-6:45pm
Gateway to Stardom
6:45pm-7:15pm
Intermission – Ce'st La Vie Performs
7:15pm-9:00pm
Gateway to Stardom Talent Show
9:00pm-10:30pm
What We Were
The Coup
Main Stage
Friday, September 9th

5:00pm-5:30pm
What We Were
5:45pm-6:15pm
Calicocat
6:30pm-7:00pm
Opposite Box
7:15pm-7:45pm
The Black Shades
8:00pm-8:30pm
KNAPSACKHEROES!
8:45pm-9:15pm
The Hollywood Kills
9:30pm-10:00pm
Technikiller
10:15pm-11:00pm
Opossum Holler
Saturday, September 10th
11:30am-12:00pm
Karitsa
12:15pm-12:45pm
Whiskey Angel
1:00pm-1:30pm
Alibye
1:45pm-2:15pm
Shapeshifting Cliche
2:30pm-3:00pm
HKB
3:15pm-3:45pm
Hrothgar y Diimitri
4:00pm-4:30pm
Frogen Horse
4:45pm-5:15pm
Details!Details!
5:30pm-6:00pm
Grant Brashears
6:00pm-7:00pm
DJ Setup/Beard & Moustache Comp/Siren Girls/Bboy
7:00pm-7:45pm
CNDYPNTS!
7:45pm-8:30pm
Ugly lovely
8:30pm-9:15pm
40 oz.
9:15pm-10:00pm
Quite Entertainer
10:00pm-11:00pm
This is Art
Side Stage
Friday, September 9th
5:00pm-6:30pm
SuperTramp
6:30pm-7:15pm
Taco
7:15pm-8:00pm
Papa Bear
8:00pm-8:00pm
VRB
8:45pm-9:30pm
Don Solo
9:30pm-10:15pm
Wook
10:15pm-11:00pm
Shmuck
Saturday, September 10th
10:00am-11:00am
Morning Yoga
11:00am-11:20am
Joe Kinzer and Erica Smith
11:30am-11:50am
John Brady
12:00pm-12:20pm
Christen Brady
12:30pm-12:50pm
Matt Watkins
1:00pm-1:20pm
Trent Singer
1:30pm-1:50pm
Deli Neblett
2:00pm-2:20pm
Xanthi Diamond
2:30pm-2:50pm
Vash the Stampede
3:00pm-3:20pm
Fizzlepop
3:30pm-3:50pm
Bobby Exodus
4:00pm-4:30pm
Spoken Nerd
5:30pm-5:00pm
Smokee B
5:00pm-5:30pm
CaseArmold
5:30pm-6:00pm
Final Sleep
6:15pm-7:30pm
Ancients
7:45pm-8:15pm
Guide
8:30pm-9:00pm
Almost Atlantic
9:15pm-9:45pm
Race the Sky
10:00pm-11:00pm
Since Forever
International Stage
Friday, September 9th
5:30pm-6:00pm
Natalie's Dance Network
6:00pm-6:30pm
Hui Hawaii O Tenesi Hawaiian Civic Club
6:30pm-7:00pm
Harris Holt Martial Arts Demo Team
7:00pm-7:30pm
Karaoke with Cricket
Saturday, September 10th
12:00pm-1:00pm
Clarksville Judo Club
1:00pm-2:00pm
Filipino-American International Association
2:00pm-2:30pm
Kreigisch Martial Arts LLC
2:30pm-3:00pm
The Ladies of lada, Troupe Thalia
3:00pm-3:30pm
Baize Martial Arts
3:30pm-4:30pm
Ballet Folklorico Viva Panama
4:30pm-5:30pm
Hui Hawaii O Tenesi Hawaiian Civic Club
5:30pm-6:30pm
Natalie's Dance Network
6:30pm-7:00pm
Harris-Holt Martial Arts Academy Demo Team
7:00pm-8:00pm
Karaoke with Cricket