The 10th Anniversary of 9/11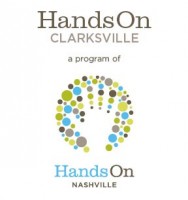 Clarksville, TN – "America Sings!" will be held Sunday, September 11th, 2011 at the Austin Peay University, Clement Auditorium from 12:00pm to 3:30pm.
Many of the performers have served in the military, come from military families, or volunteered their time playing for our troops both nationally and internationally.  They are ALL donating their time and talents for this effort, which will be submitted to The Corporation for National and Community Service (CNCS) for their "10th Anniversary Challenge", allowing Clarksville to qualify for a grant to be used to support future 9/11 events and projects.
We look forward to an incredible and moving show with the goal of remembering those we lost on 9/11, as well as those we have lost in service, while also paying special honor to those who continue to serve America today.
12:00pm–2:30pm
NSAI  Singer-Songwriters
Jonathan Wells – "Bullets in My Pocket"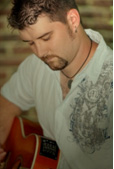 Jonathan Wells is a Nashville based songwriter/artist with a powerful voice and a lyrical style that will unlock your heart.  In the long tradition of history he is not only a poet, but a warrior as well, serving as an Infantryman with the TN Army National Guard since 2006 with a tour of duty in Northern Iraq in 2010.
While deployed, Jonathan wrote his song, "Bullets In My Pocket", which is dedicated to B Troop 1/278th ACR TNARNG and all of those who serve.
Alison Joy Williams
Alison Joy Williams can be called blues artist, songwriter and military wife. Her current CD "Love All Of Me" spent over 20 weeks in the top ten of Airplay Directs Blues Charts.  Her music is played on over 300 stations worldwide.  Alison spent this past summer playing in Germany and played several shows for the military personnel based in Stuttgart.
Goose Gossett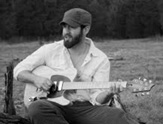 Goose Gossett is a talented Americana artist and songwriter from Muscle Shoals.  Goose has toured internationally this past summer, volunteering his time performing for the troops stationed overseas.
Kyle Knutson
Kyle Knutson hails from South Dakota as a recording artist and songwriter whose back road roots you can hear in the delivery of his front porch blues.  He brings America to your door and you'll feel right at home when he starts singing.
Lainey Edwards

Oklahoma Native, Lainey Edwards is a country music singer/songwriter who's move to Nashville almost 7 years ago has resulted in working relationships with some of the industry's most accomplished producers, songwriters, publishers and record executives.  Lainey released her first independent album, "Lucky Girl" in the Spring of 2009.
2:30pm–3:30pm
VSA Tennessee presents:  Laura Dodd (with Josh Phurman) & TN Young soloist winners, Lake Rise Place Band, featuring Christian Kissinger and Caleb Shown
Laura Dodd and Company

VSA Tennessee is proud to present Laura Dodd.  Laura Dodd, is a vocalist, model, and actress from Gadsden, Alabama, who has been featured in leading and supporting roles in local theater productions of Annie, Oliver, Oklahoma, Leader of the Pack, and Little Shop of Horrors.  The 2010 New Artist of the Year for Inspirational Christian Music, Laura has shared the stage with the likes of George Jones, Rascal Flatts, Bruce Hornsby, Josh Turner and others.  She was a former VSA National Young Soloist winner, and her country single, "Wow", has been moving up Nashville's Music Row country breakout chart.
Featuring Christian Kissinger and Caleb Shown, of Lake Rise Place Band
Laura is being accompanied by her guitarist Josh Phurman.  In addition, two of the members of the trio Lake Rise Place will also accompany Laura (Christian Kissinger on drums and Caleb Shown on Bass).  Lake Rise Place is a jazz/pop trio performing songs made famous by legends such as Ray Charles, as well as their own original compositions.
For the past year and a half, the trio has performed at such venues as the Country Music Hall of Fame and Museum, Dollywood, and The Tennessee Performing Arts Center. In addition, Lake Rise Place was selected as a 2010 VSA Tennessee Young Soloists Award winner and were recently voted Best Artist of the Year by Reader's Choice in Sumner County.  The three teens from the suburbs of Nashville include bassist Caleb Shown, drummer Christian Kissinger, and pianist/vocalist Elliott McClain, who has been blind since birth.  Elliot McClain will not be joining the group for this performance.
The Turn
The Turn is comprised of band members Steve Virginia, Eric Norris, Amanda McCoy, and Tristen Smith.  Individually the band members have played thousands of shows all throughout the country, and have shared the stage with such artists as Brad Paisley, Lady Antebellum, Martina McBride, Julianne Hough, Edwin McCain, Eric Church and countless others.
Having only been together for only a short time, The Turn is already starting to turn heads. Their unique Rock and Roll/Country style is drawing comparisons to bands like The Rolling Stones and The Black Crows, with their infectious songs, and undeniable live show.  Regrettably, Amanda McCoy is unable to perform this afternoon.
Eric & Kelsey (Featuring Eric Randolph & Kelsey Emma)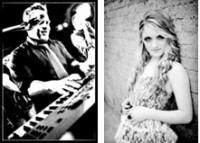 Eric Randolph, a Nashville native, and Kelsey Emma of South Dakota began their collaborative effort only this year.  Both singer-songwriter-musicians, however, bring a wealth of songwriting and musicianship experiences and history with them, from playing summer festivals to opening for major artists.  Eric comes to us from the band All Worked Up, a country-rock-pop band based out of Nashville, playing with such artists as Levi Hart, Tyler Flowers, Clayton Bellamy of The RoadHammers, etc.
Joe Sins – "Three-Cornered Flag"
Joe Sins hails from Twenty Nine Palms California.  He has played numerous sold out shows across the country, written with such greats as Vern Gosdin, David Chamberlain, Ron Hellard and Merle Kilgore, and also produced Vern Gosdin's final album before his passing.  His voice is also heard on thousands of demos around Nashville for fellow songwriters.  Joe comes from a strong military family, and wrote his featured song "Three-Cornered Flag" with Vietnam Veteran Raymond Cutshaw.
The Sins  (Joe & wife Kristin Welch Sins) -"Come Home"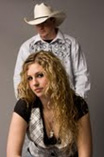 Joe also performs as part of the dynamic duo, The Sins, alongside his wife Kristen Welch Sins.  Kristen is from Sonora California, and has had the honor of opening for such artists as Chely Wright, Doug Stone, and Ron Williams.
Kristen is also a member of NSAI and has performed locally at such venues as The Bluebird, Tootsies, The Commodore, Douglas Corner, The Gibson, and Nashville International Airport. She also received Honorable Mention in the NSAI/CMT song contest in 2007.
Both Kristen and Joe have had the honor of performing for Tennessee/South Eastern State Senators, as well as playing on the Midnight Jamboree, the longest running radio show in history.
We hope you enjoy the show on this 9/11/11
Proudly Presented by The Beat of Life in coordination with Hands on Clarksville/Hands on Nashville.