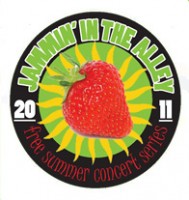 Clarksville, TN – The City of Clarksville together with U.S. Bank will be Jammin' in Strawberry Alley again. Join us September 16th for this month's free concert and to enjoy yet another "night market," featuring more than a dozen vendors from Clarksville's weekly Downtown Market. Vendors will be set up from 5:00pm to 8:00pm, and the concert will begin at 7:00pm.
This month's concert features the band August Christopher, best known for their events that feature improvisational free styling, crowd participation, comedy, radio-friendly songs and amazing musicianship. Visit www.augustchristopher.com to find out more.
In addition to the live music and market vendors, downtown restaurants will offer outdoor dining for Jammin' in the Alley patrons. The concert begins at 7 p.m., but you may want to come early and claim your spot as we expect a large crowd. Come ready to eat, dance and have fun!
Strawberry Alley will be closed to through traffic starting at 1:00pm on Friday. Starting at 3:00pm, the lower employee parking lot of City Hall will be closed. However, drive-throughs for U.S. Bank and Regions Bank will be accessible, as well as the upper City Hall parking lot.
For more details on Jammin' in the Alley and a complete schedule, please contact the Clarksville Parks and Recreation at 931.645.7476 or visit www.parksafterdark.com