Nashville, TN – Ease the kids into the back-to-school routine with some easy breakfast treats. Breakfast doesn't have to be a big, complicated production. The most important part is to plan a few easy breakfast menus and stock up on the things you need.
It is always handy to keep several different flavors of muffin mix on hand. You can have warm muffins out of the oven in less than 20 minutes or use the muffin mix as a shortcut for delicious pancakes, waffles and other breakfast goodies.
Blueberry Pancake Roll-Ups are made with an egg-rich batter that is a little thinner than standard pancake batter in order to make a thin pliable pancake that can be rolled or folded.
"Delicious served with syrup, we love these little crepe-like pancakes filled and/or topped with lemon or vanilla yogurt and sprinkled with granola, nuts and fresh berries," suggested Martha White® baking expert Linda Carman. Use any fruit-flavored muffin mix and yogurt combination your family likes. With a little advanced planning, you'll be able to whip up breakfasts that will have your little scholars up and out of bed in a flash.
Blueberry Pancake Roll-Ups With Yogurt, Granola and Berries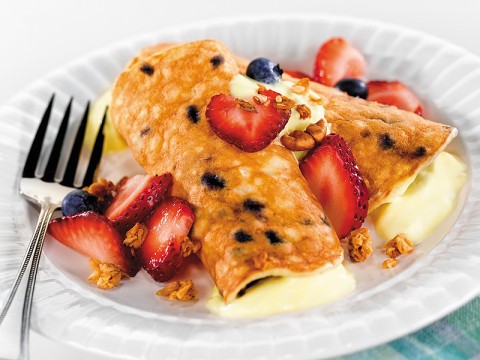 Crisco® Original No-Stick Cooking Spray
2 large eggs, lightly beaten
3/4 cup milk
1 (7 oz.) pkg. Martha White® Blueberry Flavored Muffin Mix
2 (6 oz.) containers lemon or vanilla yogurt
Granola, chopped nuts and/or berries
Directions
1. Spray lightly with no-stick cooking spray. Heat griddle or large skillet (if electric, heat to 325°F). Stir together eggs, milk and muffin mix in medium bowl just until large lumps disappear. (Batter will be thin.)
2. Pour about 1/4 cup batter for each pancake onto hot griddle. Cook 1 to 2 minutes or until pancakes begin to look dry around the edges. Turn, cook 1 to 2 minutes or until golden brown.
3. Cool slightly. Spoon yogurt down center of each pancake. Roll up or fold over. Place on serving plate. Top with more yogurt, if desired. Sprinkle with granola, nuts and/or berries.
Makes 8 roll-ups
Crisco is a trademark of The J.M. Smucker Company.